Pinch collars and why they can compromise dog welfare
A guest blog by Dr Samantha Gaines, our passionate head of companion animals department.
Over the last couple of days, we have been asked on several occasions for our position on pinch collars (also known as prong collars) and whether they are legal to use. Pinch collars are not illegal unfortunately and although those who sell them state that they are 'quite gentle training tools', we believe the opposite to be true and we want to see them banned.
How do pinch collars work?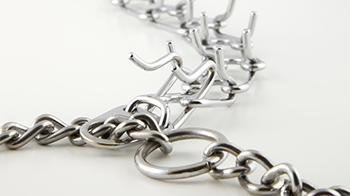 To appreciate why we are opposed to pinch collars, it is important to understand how they work. Pinch collars are based on the principle of applying something painful or frightening to stop an undesirable behaviour - very simply, when a dog pulls on the lead, the prongs of the collar close around the neck which can cause pain or discomfort which reduces the chance of the dog pulling on the lead again. Research has shown that aversive training techniques, like pinch collars, can cause pain and distress and can compromise dog welfare.
As the owner of Sidney, a 40kg Labrador mastiff cross, I can sympathise with owners who walk a pulling or difficult to control dog. When I first adopted Sidney, he had no understanding of walking nicely on a lead and would pull me all over the place! It is therefore easy to see why some owners who are struggling might buy a pinch collar wanting what is perceived to be a quick fix to help control their dog particularly as the marketing of these products implies they are safe and quite gentle.
Sadly, many won't realise that their dog no longer pulling on the lead may have come at a cost and won't recognise that what is supposed to a really pleasurable and rewarding experience for the dog can be quite the opposite. The Labrador I see regularly in my local park wearing a pinch collar might not be pulling on the lead but his behaviour suggests that he isn't truly enjoying his walk.
What can owners do instead?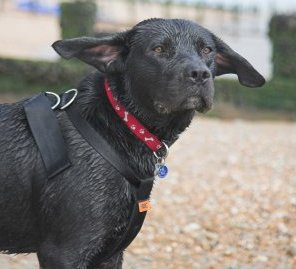 We want to see these collars banned not only because of the risks they pose to dog welfare but because they have great potential to cause abuse or to be misused.
In modern society, there is absolutely no excuse or need to use techniques which can compromise dog welfare.There are much better and humane ways to train dogs. I used a well fitting and comfortable harness to help control Sidney and taught him, using food, to walk nicely by my side. I could have also contacted one of the many trainers across the country who would have helped me to train Sidney without subjecting him to techniques which can cause pain or fear.
If like us you believe that prong collars should be banned, please write to your MP.
We do not condone or support any threatening or abusive behaviour as part of any campaign. We urge that any member of the public contacting politicians, organisations or other individuals on this issue to remain respectful at all times.
Before you go...
Our priority will always be helping animals in need. To do that, we rely on the kindness of people just like you to help our hard-working team continue the life-saving work that they do 24-hours a day.
From our animal rescue operations to offering advice just like this, helping to make sure animal owners are equipped to give their beloved pets the best life they can - we couldn't do it without you.
It costs around £670,000 to run just one of our animal centres each year and it's here that we work around the clock to care for our rescue animals and prepare them for their new home.
As a charity, we rely on your generous donations (no matter how small) to help run our centres and support our mission to create a world that's kinder to all animals. What we're saying is - every day, our animals rely on the kindness of humans to make a difference.
Your spare change could mean a huge change to an animal in our care. Taking a minute to donate really could mean a lifetime of happiness for an animal in need...
---