Microchips and missing cats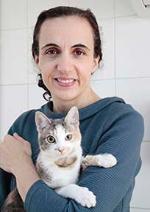 This is a guest post by our London Chief Veterinary Director, Caroline Allen.
Microchipping is the best way to ensure you can be re-united with your cat if it gets lost.
However, there are many misunderstandings about the way that microchipping works which could mean that owners don't get reunited with their lost pets, despite having the best intentions.
We strive to reunite cats with their rightful owners
When animals come into our hospitals as a result of calls from concerned members of the public, we want nothing more than to be able to reunite them with their owners.
The RSPCA rescue about 90 cats per day. We already have so many animals needing homes so it's fantastic news for everyone when we find a microchip.
Unfortunately our delight at finding a chip all too often turns to disappointment when the details on it are out of date. This renders it useless.
A microchip only contains a 15 digit number. Your phone number, address and email are held on one of several UK pet databases, accessible via this number. It's essential that you update the database when your contact details change.
Telling your vet your new contact details does *not* update your pet's microchip.
Tracking down owners
When cats come into our hospital, we do our best to find their owners with the information we have from the relevant database. Recently we tracked down the owner of a cat named Tin Tin who had moved to Bangladesh!
However we don't have the right to access of any other information than what is on the database.
If we can't get through using the phone number supplied, we will send a letter to the address on the database by recorded delivery. We keep animals for a minimum 16 days before moving them to a rehoming centre once they have recovered from their illness or injury, to give the owners a reasonable chance to come forward, if they are on holiday for example.
Our very busy hospital is currently caring for five microchipped cats. Unfortunately we can't get hold of the owners due to incorrect details. We'd love to be able to get them home and use the space for other animals who are in need of our expert veterinary care.
Checking for a chip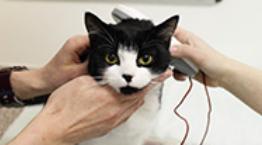 If a microchip still has old owner details, we will of course ask the old owner to help track you down But ultimately, any decisions for the animal will come down to registered keeper on the microchip.If you have acquired your cat from someone else, you should find out whether it is chipped as soon as possible. Ask the previous owner to update the database with your details. If this is not possible, you can update them yourself, but they will need to feel satisfied that you are the legitimate new owner before they will do it.
Ask your vet to check if you're not sure whether your cat is chipped or you don't know their chip number.
Myths about microchips
A microchip is not a GPS tracker. If your cat goes missing, someone - a vet, council dog warden. inspector, animal collection officer etc. - will need to scan them for the chip and find out who the animal is registered to, and investigate from there.
There are multiple UK databases storing information about pets, who are usually able to point you in the right direction if they are not the database your pet's details is stored on. Unfortunately there is not a single international pet microchip database.
Although it is rare, microchips can stop reading. You should ask your vet to check the chip at every visit.
Reporting a lost cat
If your cat goes missing you should call the database immediately and report it.
You should still call rescue organisations, register them as missing on Pets Located, and put up posters locally. It's not unusual for people to take in cats believing them to be stray - and in this instance, the chip won't get read.
Overall: microchips are fantastic but it's essential that you keep your details up to date.
For information on how to microchip your pet and what to do if you find a lost animal, head to our advice pages.
Before you go...
Our priority will always be helping animals in need. To do that, we rely on the kindness of people just like you to help our hard-working team continue the life-saving work that they do 24-hours a day.
From our animal rescue operations to offering advice just like this, helping to make sure animal owners are equipped to give their beloved pets the best life they can - we couldn't do it without you.
It costs around £670,000 to run just one of our animal centres each year and it's here that we work around the clock to care for our rescue animals and prepare them for their new home.
As a charity, we rely on your generous donations (no matter how small) to help run our centres and support our mission to create a world that's kinder to all animals. What we're saying is - every day, our animals rely on the kindness of humans to make a difference.
Your spare change could mean a huge change to an animal in our care. Taking a minute to donate really could mean a lifetime of happiness for an animal in need...