Improving transparency in slaughter: first signs of a Brexit
The Department for Environment, Food & Rural Affairs' (Defra) have proposed mandatory CCTV in all approved English slaughterhouses. David Bowles, our assistant director of external affairs, examines what this announcement could tell us about the future handling of animal welfare issues during Brexit.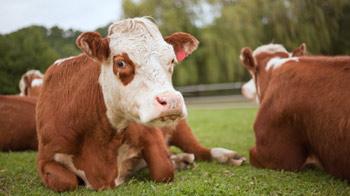 The news surrounding Brexit is currently full of speculation, stalled negotiations and the pros and cons of being in or out of the Customs Union. It's fiendishly complicated, and frankly quite boring to most people.
However, Brexit does present Defra with a golden opportunity to show the public that they can, and will, deliver on animal welfare issues. Defra control around 70 percent of the Brexit legislation, £3 billion of farm subsidies, and are responsible for most of the UK's animal welfare laws.
Why is mandatory CCTV a Brexit issue?
Last week Defra announced its proposals to bring mandatory CCTV to all approved slaughterhouses in England, pending consultation. Why is this a Brexit issue? Because the same department, when asked a few years back if they would bring in mandatory CCTV, said they couldn't because it expressly wasn't allowed under EU Regulation.
The FSA figures that were published two years ago revealed that the use of CCTV was growing and covered 70 percent of poultry and 49 percent of red meat slaughterhouses. Most retailers, and many assurance schemes such as RSPCA Assured, have required CCTV to be installed for some time. This means that the vast majority of animals slaughtered are covered - but those abattoirs that aren't part of retailer or assurance schemes have been left behind. It's in these abattoirs that we need improvements most.
Who benefits from the proposal?
This policy announcement is good for welfare, good for enforcement, good for the abattoirs and popular with the public. No wonder it's one of the first Government manifesto commitments that is being delivered.

It's good for welfare, as hundreds of millions of farm animals are slaughtered in England each year. As sentient beings, with the capacity to experience fear, pain and distress, these animals deserve a humane end to their lives.
It's good for enforcement, as the Food Standards Authority data in 2016 showed over 9,500 breaches of animal welfare legislation at slaughter, of which nearly 4,500 cases were severe breaches. Having mandatory CCTV is clearly key to helping reduce this number.
It's good for the slaughterhouses, as footage can be used to train and monitor slaughterhouse staff, as well as provide security against malicious complaints of malpractice. It's also financially viable - when it became mandatory to have it installed under RSPCA Assured in 2011, it was adopted across the board with no abattoirs leaving the scheme.
And, it's good for the public who should be able to have confidence that all farmed animals are being continuously monitored at the time of slaughter. This is a time when the animals are vulnerable, and where there are significant risks to welfare involved.
Does this tell us anything about how animal welfare issues will be treated during Brexit?
When Michael Gove gave his keynote speech last month, he talked about wanting to take on the new opportunities that Brexit offered. Mandatory CCTV was perhaps the most straightforward action to take.
It is no accident that the only two animal welfare improvements listed in the Government's manifesto - live exports of farm animals, and better control of England's abattoirs - are both issues that achieved huge social media attention during the Referendum. Both are Brexit opportunities and both are hugely supported by the public.
Undoubtedly there'll be much harder decisions to make in the next 18 months concerning farm support, agricultural labour, and protecting our animal welfare standards when negotiating trade agreements with countries that have no legislation. But CCTV is easy for the public to understand and so, as a first step towards Brexit, the RSPCA will celebrate the adoption of these proposals as a big win for farm animals.
Find out more
Find out more about farm animal welfare issues, and how we're working to improve them, by visiting our farm animal advice and welfare pages.
If you're interested finding out more about the animal welfare issues that we campaign for, and how you can get involved, then visit our campaign pages.