Take a chance on a senior pet: Golden Oldies
Sue Walters, manager at RSPCA Millbrook Animal Centre in Surrey has worked here for 30 years. Over the years she's cared for thousands of animals from newborn kittens to elderly dogs.
What it's like to care for an older animal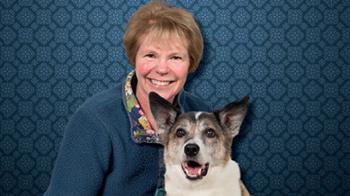 To celebrate some of the Golden Oldies in our care, Sue gives some insight into what caring for an older animal is really like.
We see so many animals come through our doors but there are some animals that stick with you and you know you'll remember them forever. One such animal for me was lovely Franny an elderly Rhodesian Ridgeback, who had age-related health issues.
Franny had been part of a cruelty case and because of that, she'd been in our care for a number of months. Luckily for Franny, she was adopted by two members of my staff who live on-site and her ongoing treatment was supported by the Centre's Friends Group. This allowed Franny to enjoy her last days being much loved and receiving the correct medication and treatment.
The joy she brought to staff members really proves that age is just a number and rehoming an older animal can be incredibly rewarding. You're giving that animal the best possible life for their twilight years.
When potential adopters come in and they want to rehome a senior cat or senior dog, I tell them what a wonderful thing it is they're doing. They may have a few grey bits on their coat but they want to find their forever home just as much as any other. It's incredibly rewarding to know that you're giving them a loving home. An older animal is more likely to be trained, has probably lived in a home before and can settle in more easily.
I think an older animal tugs on people's heartstrings and that's certainly what I've seen here at Millbrook, although figures nationally show that it actually takes nearly three times as long to rehome an older animal. As these seniors spend much longer in our centres it can mean caring for them puts extra strain on our time, resources and funds. This is why we're shining a light on some of the incredible animals in our care and appealing for members of the public to support us so that we can continue to care for these amazing Golden Oldies.
Whether a 15-year-old tabby cat or a 12-year-old Staffie, each of them are individuals and will have different needs. Some older animals might be young at heart and others may need a bit of extra help.
Looking after a senior pet
Keep an eye on their weight
As older pets tend to rest more and exercise less they can become overweight fairly easily which adds extra strain on old bones.
Consider a diet to suit their age
There are plenty of senior dog food and senior cat food brands available on the market to ensure your pet has the right nutrients as they get older for healthy bones.
Give them some time out
Snoozing is an important part of the day for any animal and as older pets will sleep a little bit more than younger ones during the day it's vital that they have a safe comfortable space to sleep away from loud noises and distractions and that any young children know to let them nap.
Make those little adjustments
It might just be changing old habits to feeding your cat on the floor rather than up on a counter which has become harder to jump, or buying a ramp for an elderly dog to make getting into the car easier. Also think about moving everything your pet needs to somewhere easily accessible so they don't have to go too far to find their water, food, toys and bed.
Keep them active
An older dog might not have the same enthusiasm as a puppy when you say the magic word 'walkies', but it's important to keep them motivated and keep them active. Walks may need to be shorter in length, but they can still enjoy exploring and meeting other dogs and people. Similarly, for an older cat who's no longer interested in chasing toys, a little encouragement, to engage in a gentle game can be really beneficial for keeping them active. A new toy, might also spark their inner kitten once more.
Regular health checks
Regular health checks with a vet are important for an older animal to ensure there are no problems. It's a good idea to monitor any changes in your pet's behaviour which could signal an issue and to regularly groom them as a way to check for any unusual lumps or bumps or skin problems. If you have any concerns about the health or behaviour of an older pet, please consult your vet.
Read next: Why adopting an older dog was the best choice we could have made.
More tips on how to care for older pets in our video
Adopt an older rescue dog
We have lots of rescue animals ready and waiting to be loved...