Every dog is different
From favourite treats to funny habits, we know that every pet is an individual. And in turn, this means that every dog needs to be treated differently when it comes to their training, exercise and daily routines.
All kinds of things can affect how a dog behaves and what they need to be at their happiest. Their age, type, personality and past experiences can all make a difference. Enrolling in training classes with a good trainer is a great way of getting to know your dog and learning the best way to adapt to their individual needs.
As just one example, some dogs will respond really well to clicker training, some will behave their best for treats, some dogs just want fuss and attention, and others will do anything for their favourite toy.
Dogs with extra needs
It's not just preferences - like which reward does a dog like best - that need to be catered for, but physical and medical differences too. For example, Olaf is a deaf dog in our care who's learnt to respond to thumbs up signals rather than clicker sounds.
We're looking at three dogs in our care who need more unusual adaptations to their daily routines, and how these adaptations mean that their daily lives aren't too different to any other dogs. All these extra special dogs have now found their new families.
Olaf
Olaf is a three-year-old Staffy who was at our Danaher Animal Home. He's an energetic, polite young dog, who loves human company.
He's also deaf, so staff at the centre had special ways of telling him what a good boy he was.
When he arrived at the centre he was already an exceptionally well behaved chap, but he still enjoyed training sessions for the mental stimulation, and bonding with his carers.
The only difference between training sessions for Olaf and a hearing dog, is that Olaf needs hand signals to be told what to do - for example being asked to 'lie-down' by pointing towards the floor. Telling him that he's done well is simply a case of giving him a thumbs up, or a nice pat on the back.
Bella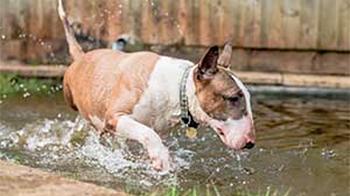 Bella is a five-year-old miniature English bull terrier, who unfortunately had to have one of her legs amputated.
She was in the care of our Bath Cats and Dogs home and happily, she gets along really well on three legs. Staff at the centre say they had to make very few adaptations to her daily routine.
She can get a little unsteady on her feet when she's excited, so she was normally taken out to play in spaces where there's a flat, even surface. That way she could run around and enjoy herself with less of a risk of her tripping up.
Champ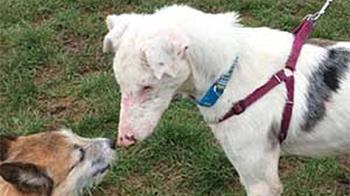 Beautiful boy Champ, a three-year-old collie crossbreed, was born both blind and deaf as a result of his merle cross-breeding. He was a firm favourite with staff at Llys Nini Animal Centre, near Swansea, who say 'Champ was one of the most wonderful dogs you could wish to meet.'While at the centre Champ lived in a foster home as he needs a little more one-to-one attention.
He loved going out on long walks with his foster carer, and was particularly keen to have a good sniff of everything, as it's his main way of interacting with and experiencing the world.
His foster carer helped him feel more secure on walks by carrying a scent that Champ can follow, and sticking to defined paths rather than open spaces. This helps Champ have an idea of where he was going. Although Champ does need a few special adaptions like this in his day to day routine, he doesn't let his disabilities hold him back.
Finding your special dog
Every single dog who comes through our doors is special in their own individual way. If you're interested in giving one of them a loving new home, then search for animals near you on our find a pet pages.
If you've already got a canine family member of your own, find out more about how regular training classes can help you get to know your dog, and read our advice on finding a good trainer.
---