UK set to become the first European country to ban live animal exports
A blog by David Bowles, our dedicated head of campaigns and public affairs.
Here at the RSPCA, we've been campaigning to ban live animal exports for more than half a century. Today, we're thrilled that the Government has announced a consultation into finally ending the suffering of farm animals shipped on gruelling journeys from the UK to the Continent.
Four reasons to celebrate the ban of live animal exports
Last year, over 6,000 live animals were transported abroad to be slaughtered. This has come down enormously from around nearly one million being exported annually in the 1990s and so huge progress has been made in the past 25 years. This is an achievement we should all be celebrating.
Here's why...
1. It's a win for animal welfare
RSPCA campaigners have spent decades gathering first-hand information detailing the suffering animals endure during long-distance journeys. The unnecessary suffering includes mental exhaustion, physical injury, hunger, dehydration and stress from the extremes of heat or cold.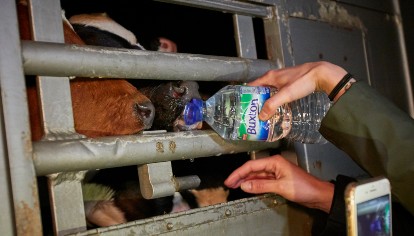 Our inspectors have personally witnessed all of these problems at ports such as Ramsgate and Dover in Kent and Brightlingsea in Essex, where animals have experienced serious and unnecessary suffering.
Overstocking, vehicle or ship malfunctions and journeys involving animals too sick or injured to be exported in the first place are just some of the issues animals have faced for far too long.
Animals are continuously made to take long, crowded journeys in conditions which are either far too hot or far too cold, all while access to food and water is not just a challenge but sometimes impossible. These journeys have to stop.
2. We're taking back rightful control
Live animal exports was the only animal issue raised during the 2016 Referendum campaign, highlighting its importance and its resonance with the public.
Under EU rules, once an animal leaves the UK we lose control over their final destination or slaughter method. There are no limits on transport of animals - indeed an animal can travel all around the world provided rest stops are applied.
The Government's own figures show the average journey time for sheep going to France is more than 26 hours. For calves being transported to Spain, it's more than 96 hours from start to finish.
These are just two examples which highlight this loss of control concerning British animals when they arrive on the Continent. Most of our sheep exported to the Continent will be slaughtered without stunning in France - a practice the RSPCA has long been opposed to.
Calves exported to Spain are some of the most vulnerable, as they are only a few weeks old and will have endured more than four days of travel before reaching their final destination. For some of them, Spain isn't even the end of their journey.
Shocking evidence this year uncovered British cattle being slaughtered without stunning in a Lebanese abattoir, after being transported on yet another long journey from Spain to the Middle East. They would have started life as a calf on a Scottish farm before being put through such unnecessary suffering.
3. 50 years of public support and campaigning has paid off
Stopping live animal exports has always had strong public support. We saw huge public demonstrations at ports all over the UK in the early 1990s when tens of thousands of people came onto the streets. While this may not have resulted in major legislative progress, the public concern continues to this day.
4. Improved vehicle and ship standards mean better conditions for animals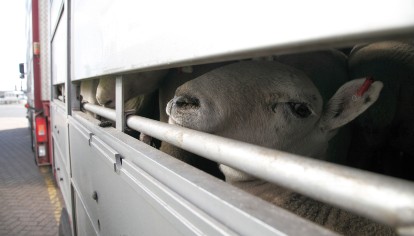 We're delighted that the Government has proposed improving the standards for lorries and ships used to transport animals. For too long, we've witnessed the impact on animals of poor design or inadequate maintenance in vehicles or ships.
For example, we've seen the floors in a sheep lorry collapsing, crushing and trapping the sheep on the lower levels.
How did this happen? The ship used to ferry animals across the channel was actually built for tanks to cross rivers, not carrying sheep across stormy open seas.
The news comes as Wales bans wild animals in circuses
This week also saw another significant step forward for animal welfare as Wales introduced the ban on wild animals in circuses. Similar to circuses, our team at the RSPCA has been campaigning on live animal exports for over 50 years. Indeed, in 1937, we campaigned successfully to get a new law in place that stopped the most vulnerable horses from being exported to the Continent.
The parliamentary debate at the time highlighted concerns about the fate of animals exported and proposed moving to a carcass-only trade. Eighty-three years later and we're finally within touching distance of obtaining this goal.
Seeing these two wins for animal welfare in one week as a result of long-running campaigns is testament to the campaigning efforts of the public, as well as the reliability of our evidence and the tenacity of our supporters.
Thank you for fighting alongside us - and animals - for so many years. We hope this step forward from the Government is the first one towards a complete ban on live exports. We'll be sure to keep you informed and ask for your help as the consultation progresses.
Stay in the know
You can keep up with all of our latest news by subscribing to our 'Give Animals a Voice' campaign emails.
---