11 incidents a day: The devastating consequences of litter on animals
A guest blog by Geoff Edmond, our National Wildlife Officer and Inspectorate lead on litter.
When I go out for a walk, I'll inevitably see some sort of litter where it shouldn't be - but how many of us really care about how it got there?
Discarded plastic and other waste materials certainly shouldn't be sitting on our verges, trapped in our hedges or blowing around our beaches but so often it is. Was this lost litter dropped where it was found or did it travel on the wind or wash down after periods of rain?
The reality is we don't actually know where our litter's journey started and what's more worrying is that we won't know where it will end. What we do know is that it shouldn't be there and that it's the reason we support Keep Britain Tidy in the Great British Spring Clean each year.
Not everyone thinks about the impact that even one piece of litter can have on animal welfare and the environment we live in. And not many can fully appreciate the consequences at the time of their actions, but consequences there are...
We deal with 11 litter related animal incident a day

Our animal rescuers are at the forefront of animal welfare and all too often are called upon to rescue animals that are in distress as a result of litter entanglement. A horrible and potentially deadly situation that could have easily been avoided with a little more thought and midfulness from us humans.
Did you know? Between 2019 and 2020, our hard-working team dealt with a whopping 8,092 calls concerning animals being injured or caught up in general litter.
This is an average of 11 incidents per day. Sadly, some of these incidents will end in serious injury or death is a result. Unfortunately, I'm sure that for every animal we're able to help, many others go unseen, unreported and may even lose their lives.
Litter can have consequences for animals in so many ways - even a single piece of litter can create a problem. The reality is that when we walk away and leave litter unattended, we just don't know what that may mean for the next animal that wanders by.
One student's mission to spread awareness
The issue of litter is huge and an area of our work that we're continually campaigning on in a variety of ways. It's always so reassuring to hear that our messages resonate with others when members of the public and young people reach out to us as impassioned as we are to achieve change by taking action within their local communities.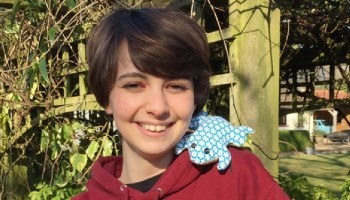 Jessica Edwards is an animal lover with three dogs and two cats. Studying as a second-year illustration artist, attending Farnham University of Creative Arts, Jessica knows well the impacts of litter. Living in a small village on the outskirts of Horsham after a move from the city, Jessica has loved being in the countryside, visiting her local nature reserves and immersing herself in the rurality of her surroundings.
However, Jessica has been troubled by the fly-tipping happening near her home and is taking positive action to rid her beautiful village of discarded rubbish and making big moves to raise awareness of the problems litter causes. And when given an open art project with the brief being to create a documentary, Jessica chose to create a powerful animation about litter called 'Taking Responsibility'.
Jessica first reached out to us when she found herself needing help after coming across a deer that had been involved in a road traffic collision in October 2020. It was great to later hear of Jessica's interests as she talked of her studies and expressed how she was keen to produce an animation about litter and its devastating effects on animals.
It was a pleasure to be able to help and to discuss the many issues surrounding litter and animal welfare together and I was delighted to be sent this amazing animation, which I am sure readers will agree, documents the litter journey so well.
The animation took two and a half weeks and heaps of imagination, not only to create the piece but also in Jessica's shooting of it. Not having access to the usual resources due to her university being closed, Jessica improvised by filming on an old video camera and a makeshift tripod, using natural lighting instead of studio lighting, which proved tricky in winter!
Litter: The bigger picture
The animation depicts a discarded plastic drink bottle - no lid on the top - filled with water, if not rainwater. Laid in the undergrowth, this can so easily become a water source for small rodents such as mice, voles or shrews which crawl inside to drink. When this occurs, it's challenging and sometimes impossible for the animal to climb back out again and as a result, they can become trapped inside with fatal consequences.
Now's also the time to look at the bigger picture and think about where these small rodents fit in the wider ecological chain. Many of us will see barn owls and kestrels hunting our roadside verges and these species primarily take small rodents as their diet. They rely on these rodents to feed themselves and their young, and so the consequences of irresponsibly dumping plastic bottles can be much greater than many of us truly realise.
What really happens when our wildlife ingests litter
When empty drink cans are just thrown away open at the end, they attract slugs and snails who are easily able to crawl inside. The hedgehogs and birds (as well as other animals as part of nature's food chain) will then also suffer by the simple act of dropping a can.
There are always alternatives to dropping litter and it's great to see how some councils are rising to the challenge of conservation by providing various recycling options, especially in our coastal towns.
Take a can for example; cans can be easily recycled and crushed before disposal so all risks are reduced. And don't forget there are alternatives - if you're taking a drink with you when you take your exercise or enjoy a picnic, you can always take a reusable bottle or flask.
Empty tins and glass jars discarded irresponsibly (often with tiny amounts of food left inside) will also attract the curious noses of cats, foxes and hedgehogs. This can so easily result in a call to our already very busy emergency line requesting urgent help as an animal in distress becomes frantic, running around with a waste item stuck on their face, inevitably needing urgent intervention.
Meet the litter heroes!
We all have the potential to make a difference. Looking for a little inspiration? Meet our little litter heroes...
Lola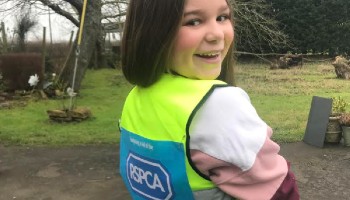 Lola Tayler from Chippenham in Wiltshire chose to do a sponsored litter pick every day throughout February.
Whether wind, rain or snow, nine-year-old Lola headed outside for at least 20 minutes every day to pick up as much litter with her litter picker as she could.
Her mum, Amy Tayler, said:
Lola has become such an inspiration to people - both children and adults - and she's been so surprised at the fantastic response that she's had from people in the local area. Her fundraising goal was £200 but she has exceeded that and has so far raised over £1,000!
Lola fell in love with the RSPCA when she first read our collection of storybooks. Our RSPCA charity shop is also her favourite shop and she was so sad when we had to close due to the lockdown. She realised then that charities would be really struggling to raise money at the moment and wanted to help.
Litter picking seemed like a great idea because it would raise money and awareness but also help the animals in a practical way by getting rid of the litter which can harm them.
Lola has managed to litter pick 20 black bags full of rubbish and counting!
Susie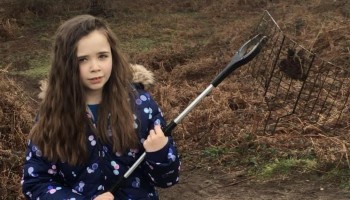 Nine-year-old Susie Clarke has also been taking on a litter pick challenge to raise money for animals in RSPCA care. She started on 18th January and aimed to raise £100 but so far the animal lover has raised a whopping £1,000.
Susie, who lives in Kesgrave in Suffolk, pledged to litter pick every day on her way home from school until the lockdown is over. As Susie is autistic, she's still able to attend school during the lockdown. Her mum, Sonia, said:
To keep her occupied on the way home from school while her friends are not there, Susie takes her litter picker along and cleans up the local area. She's always loved animals and wildlife and after seeing an advert for an animal charity she asked me why animal charities were needed.
Her mum explained to Susie why animal charities like the RSPCA were sadly needed and she also subscribed her to our RSPCA Animal Action kids magazine so she could learn more about what the charity does to help animals in need. Sonia added:
It can actually be quite challenging for Susie as school can be stressful and tiring for her but she's so determined to keep going and she has been so pleased that she's raised so much money. It's been brilliant for her self-esteem as people have been incredibly supportive and told her what an amazing thing she's doing for animals and the environment.
If you would like to follow in Lola and Susie's footsteps this spring, join Keep Britain Tidy and the community of #Litterheroes on their million-mile litter picking mission (28th May - 13th June 2021).
Our planet needs more #Litterheroes
Year on year, we've been astounded at the support we've received as a part of the Great British Spring Clean with Keep Britain Tidy. Thanks to those people and especially people like Jessica, Susie and Lola who are shining examples of a generation of 'doers', taking action in their local community and inspiring others to join in and to think twice about dropping litter!
Communities - when they pull together - are helping to create greater awareness of what happens to the litter we drop. If we can create behaviour change by taking the time to think about how we may be unintentionally trapping, injuring and killing animals, we can start to reduce the amount of litter on our streets and improve the lives of many animals.
How you can defend animals against litter
Make your pledge and support the Great British Spring Clean.
---