National Superhero Day - Rescue dogs to police dogs
28.04.22
Each year we rescue thousands of dogs, rehabilitate them and wave them off to their new homes. While they all go on to change their new families' lives, there are some who go on to carry out vital public roles.
This National Superhero Day we're revisiting five of our four-legged pals who went from rescue pups to su-paw heroes and are now busy fighting crime and keeping the public safe.
Meet the rescue dogs turned police dogs
Introducing PD Bonnie
Labrador Bonnie was just six-months-old when she was rescued in March 2021, alongside 20 other dogs, from a Welsh puppy farm. The dogs were underweight, suffering from skin conditions, and found to be living in unhygienic and hazardous conditions, some in shopping containers.
Bonnie was taken in by our fabulous team at West Hatch Animal Centre, in Somerset, where staff soon identified her potential as a working dog. She joined the fire service to begin training as a detection dog but failed a test due to her fear of dark, confined spaces so she was transferred over to Gloucestershire Constabulary.
She qualified as a proactive cash, drugs and firearms search dog before hitting the streets in January 2022 alongside three other new recruits, all rescue dogs!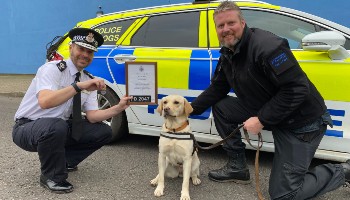 Bonnie, who now lives and works with PC Rich Hunt and his German Shepherd, PD Django, is trained to search for all types of drugs, firearms and ammunition, and paper cash.
Rich said: "Bonnie's so loving and friendly, it's amazing when you think about the awful start she had, but she's so happy now.
"She's great at her job because she loves a tennis ball and her drive for play means she has a great drive for work; it's a big, fun game to her!"

Introducing PD Bella
A 20-week-old spaniel who was found living in the back of a van was rescued by us and the police; is now giving back to those who saved her as a police detection dog!
Sprocker Bella was rescued from the Ashford area of Kent in May 2021 after being found living with two others in the back of a van.
RSPCA Kent Chief Inspector Nick Wheelhouse said:
When we were able to begin searching for new homes for them I was visiting our centre with a local police officer and introduced him to Bella. She rushed straight up to him and started playing with the ball he was throwing.
He turned to me and said she'd make a great police search dog. She was busy, bouncy and full of energy so we knew we might struggle to find her a home that would be active enough to keep up with her, so a working role seemed the perfect fit!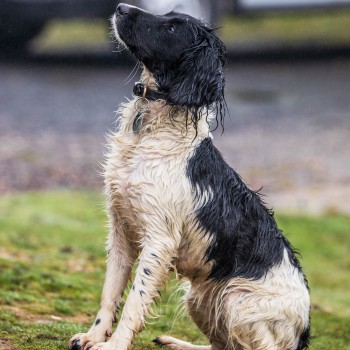 Bella went to live with a volunteer puppy walker, working with Kent Police Dog Section, in August 2021 before starting her training. She qualified as a forensic recovery dog, in March 2022, alongside her handler PC Alan Smith.
Chief Inspector Craig West, of Kent Police's Dog Section, said: "We enjoy a strong partnership with the RSPCA and were delighted to give Bella a loving home and welcome her to the Kent Police family. She is settling in very well and I have no doubt she will continue to make a valuable contribution to the force's work in the months and years to come.
"Dogs, like Bella who are trained to detect blood, use their extraordinary sense of smell to track down evidence at scenes of the crime, or to help locate people who may be injured and in need of our assistance. We just could not carry out this type of work without them, which is one of the reasons why our police dogs are held in such high regard."

Introducing PD Roxy
Staffordshire bull terrier Roxy was rescued by us in 2017 after being abandoned and taken in by West Hatch Animal Centre.
The six-year-old was really confident and very ball focused so the team thought she could make a good police recruit. She completed her training with the local force, Avon & Somerset Police, where she spent two years before moving to the Hampshire and Thames Valley specialist search unit.
Roxy was partnered with PC Camilla Carter and, in February 2020, became the UK's only Staffie working as an explosives search dog. Trained to detect the scent of explosives, PC Carter and PD Roxy carry out security sweeps before high-profile public events and VIP visits, such as Royal weddings.
"We work together to search for explosives in lots of circumstances, to make sure VIPs and members of the public are safe," says Camilla. "Roxy is one of nine dogs who work on the specialist search unit and we're responsible for high risk missing persons cases as well as counter-terrorism and serious crime searches.
"Roxy is a superstar. She's intelligent, very systematic and thorough. For her, it's all a big, fun game and she just loves to work.
"To see her working and know she's a rescue dog whose life could have been so much different makes me so proud; it's amazing to see her doing her job and loving it. And I love working by her side, she's my crew mate and we have each other's backs. I'm sure she was born to do this; I couldn't imagine her doing anything else."

Introducing PD Badger
Four cocker spaniel puppies were almost completely bald when they were found dumped in a blue bucket in a garden in Redhill, Surrey, in July 2019. They were rushed into our care for specialist care and rehabilitation.
The six-week-old pups were malnourished, underweight and suffering from severe mange, ear and eye infections. After weeks of treatment at Millbrook Animal Centre they were finally ready to go off to their new homes.
But one puppy couldn't settle in his new home and returned to the centre a short while later.
Jo Douglas said: "Dustin was always on the go and needed constant stimulation and he was just too much for his adopters so he came back to us. We kept him busy by hiding tennis balls around the centre and playing scent games with him. He absolutely loved it - and was really good at following his nose and finding them so we contacted the police to see if they'd be interested in taking him on as a new recruit!"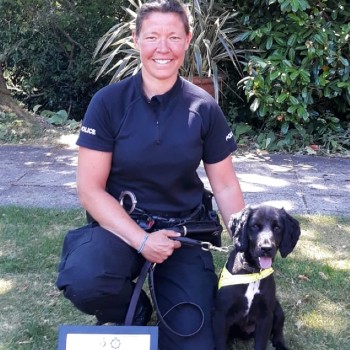 Dustin, now renamed Badger, joined the police dog training programme and was taught how to sniff out drugs, cash and weapons. Now three, PD Badger works as part of the Surrey and Sussex Police Dog Unit alongside PC Steph Barrett.
Jo added: "We're all so proud of him. It's been incredible to see the transformation he's made from frightened, poorly little puppy to a brave and clever canine crime-fighting hero!"
PC Barrett said: "I was saddened to hear how Badger had been dumped on the side of the road but, thanks to the RSPCA, he's been given a second chance. After a lot of love and training, he's regained trust in humans and become a real success story. He's still very mischievous at times, but that's all part of the challenge!
"When he hears the radio go off he squeals with excitement and I don't even have to ask him to get in the van. He's a joy to work with. He's hard not to love. He's still got that cheeky side to him but he's obsessed with work and he makes me smile all day."
Introducing PD Stella
A stray dog who was rescued by us when no one else wanted her has become one of the country's most famous police dogs.
PD Stella - or Stella the Staffie as she's affectionately known - is believed to be the first Staffordshire bull terrier to become a police dog and has tens of thousands of Twitter followers.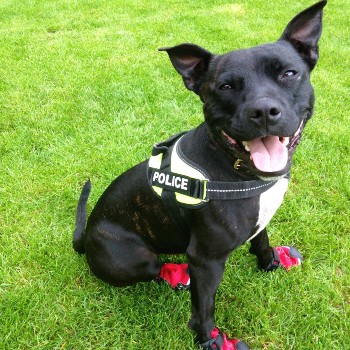 Stella was rescued in 2013 by our officers and taken in by West Hatch Animal Centre. Her owner was traced but decided they couldn't take her back.
Now, she works alongside PC Claire Todd at Gloucestershire Constabulary, as a detection dog and is trained to sniff out cash, drugs and firearms.
Stella's handler PC Claire Todd said:
I am just so proud of her. I was a bit sceptical when I first met her because she isn't a usual breed for a police dog so I tested her vigorously both inside and outside. When I saw her working she just blew me away.
She isn't fazed or scared of anything and she never gives up - that's what makes her a great police dog.
We go round schools together talking about her work and she's great with the children when they want to stroke her and pet her.
It just goes to show that in the right hands Staffordshire bull terriers are amazing dogs with so much potential.
Kennel Supervisor Sue Dicks was the one who spotted her paw-tential. She said: "When she first came in I took her out to play fetch and realised she had a real talent for finding the ball.
"I hid the ball in lots of different places so Stella would have to climb on tables and through windows to get it and she was fantastic.
"It is great that the police took a chance on her - she isn't your typical police dog but she gets the job done."
Could you offer a loving home to an extra-special animal in our care? Find out more about rehoming.
---