Buying a puppy? Here's how to avoid heartbreak
A guest blog by Shelley Phillips, our campaigns manager.
Let's be honest and state the obvious, everyone loves puppies. With their milky new pup smell, squeaky yawns and adorable bursts of energy, they inspire instant smiles. And don't even get me started on those soft little paw pads... But buying a puppy can be risky business, and shouldn't be taken lightly.
Imported puppies: The stakes are high when you buy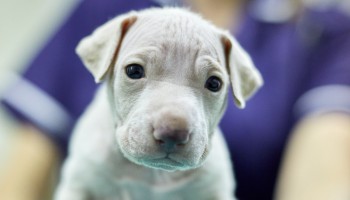 Many of us treasure the companionship of an animal. And bringing a new puppy home is a day like no other. When you bring home your fluffy bundle of joy, your life feels new and different. Your family feels richer, happier and it can be argued that it's all because of the love of a dog (and those little paws). You give them a name, buy them a bed of their own, and make room in your home for another heartbeat.
But maybe one day you might wake up to find that something isn't quite right. Maybe your new pup is poorly, or maybe they never stopped being poorly. Sadly, this is what can sometimes be the reality for owners who bought their puppy from a bad breeder.
Read more: 5 actions to take to make sure that you're not funding bad breeders.
Unexpected pup problems can be heart-breaking
Some puppy farmed pups might endure suffering from various illnesses, and premature death could be a very real possibility. Imagine that you take your new pup to the vet and the worst is confirmed. They're ill. And you didn't have a clue.
Your new puppy might be carrying a zoonotic disease such as brucellosis, which has a heartbreaking outcome. Zoonotic diseases are known as significant health risks to humans and so your new puppy will invariably be put to sleep. There's no other option, and you have no choice. You might not even get to say goodbye.
We don't bring you these stories of sorrow for no good reason. We passionately want to shed light on the dark reality of puppy farming and put an end to the heartbreak that is often brought to buyers.
Puppy problems: Behaviour issues reveal themselves slowly
If you're lucky and your puppy is in good health, you're not necessarily out of the woods yet. You might discover that challenging behavioural issues start to reveal themselves. Sadly, it's possible that your new pup has had limited, inadequate or inappropriate experiences in their life. This can have a huge impact on their behaviour and wellbeing and can be incredibly difficult and distressing for both the puppy and their new owner. These two puppy problems can force you into a painful truth; you've been had, duped, hoodwinked.
Read more: Tips for spotting a puppy dealer's online advert.
Buying a puppy: You can't undo a dodgy deal
Buying a puppy from a dodgy breeder is a pricey, heartbreaking mistake you can't undo. Shockingly, 38% of the people we surveyed said they would buy a puppy imported from outside of the UK.
Of course, even those who choose to buy from the UK may be fooled into buying a poorly pup from who they think is a responsible breeder. But when puppies are brought in from abroad, it makes it entirely impossible for buyers or welfare organisations in the UK to check the conditions the puppies have been bred in.
Take action now: Stop puppy imports #ForPupsSake.
You'll never regret doing your puppy research
Taking the time to find a responsible puppy breeder or to look for your perfect match at a rescue centre is worth doing every time. You'll never regret it. Impulse decisions rarely work out when it comes to bringing home a puppy, no matter how cute they are.
Finding a healthy, happy pup is a huge task, and we know that imported puppies are on the rise. However, there are plenty of reasons why we should think twice before buying an imported puppy. Lifelong illness and disease, needless suffering and behavioural problems are huge hidden risks, not to mention the vet bills on your doorstep. They might break your heart, and your bank account too.
Find out more about buying a healthy dog from a safe breeder: Finding a good puppy breeder.
The pandemic puppy boom blew up bad business
With the pandemic puppy boom in 2020 and the surge in demand, the stars aligned for unethical sellers and breeders to make a fortune at the expense of innocent pups and well-meaning pet buyers.
During the pandemic, UK breeders were not able to satisfy the immediate demand and the trade in imported dogs rose dramatically. There was a worrying trend in legal and illegal trade from third countries, in particular Romania.
In fact, in May 2020, the commercial movement of dogs (measured by ITAHCs issued) rose by 43% compared with May 2019. This change in trade continued over the summer of 2020 and rose by a further 75% in 2021. Additionally, the five highest recorded months for commercial imports of dogs (since records began) were in 2021.
We're want to end the unethical puppy trade
We've been asking for tighter regulations to stop these unethical practices and we believe there are achievable solutions that will see an end to the import of puppies.
The most realistic action the UK Government can take to combat this problem is to raise the minimum age requirement for imported pups from 15 to 24 weeks.
This recommendation is underpinned by three major factors:
Research has shown that people consistently rate puppies as most attractive between 6 and 8 weeks of age. By raising the age, we believe there will be a significant loss in interest from potential buyers after puppies have lost their 'cute factor.' This will disincentive illegal trade.
Secondly, enforcing a 24 week age is easier for a border enforcement officer than a puppy at 15 weeks as it is easier to age a dog at this age due to adult dentition and body conformation.
We also believe that all puppies should be vaccinated against rabies before they can enter the UK. We want to see the waiting time from vaccination to import a minimum of twelve weeks which restricts import to puppies over 24 weeks old (vaccinated at twelve weeks plus the twelve week wait). The justification for doing so is that twelve weeks is the longest reported incubation time for rabies. Such action would make detection of illegal imports far easier as well as improving biosecurity. This decreases the risk that the dog will have rabies and also decreases the risk the dog has other diseases such as brucellosis and distemper.
Imported pups are sadly all too common but we know change is coming and we're working hard to ensure that new regulations are as impactful as possible, but we need your help. If you're thinking of buying a puppy, please do so responsibly and don't be fooled by dodgy breeders.
Your new puppy might cost more than you think, and if you're not careful, they could be gone in a flash. All that might be left is a tiny collar without a home. Some things aren't meant to be rushed, easy or cheap.
Join us in fighting for change for puppies and families
We're not helpless, there's something we can do. Since the launch of our For Pup's Sake campaign last year, the UK Government has been listening. In May, it announced its ambitious Kept Animals Bill, which aims to improve the lives of countless animals including dogs, primates and farm animals to name a few.
But we're on a tight deadline to make this happen.
The Bill is on its journey through the Houses of Parliament, but the UK Government has now announced a consultation into the import of pregnant dogs, puppies and dogs with barbaric mutilations such as cropped ears. Using our handy template, you can take action today and let the consultation team know that you want a crackdown on these issues.
You've only got until 16 October to make your voice heard and join our movement. Please take action today and tell them that this has to stop, #ForPupsSake.
Help us to stop puppy imports before it's too late.
Are you looking for a puppy or perhaps an older dog?
If you need help finding a healthy, happy pet to join your family, we have lots of rescue animals ready and waiting for their forever home right now.
---