How do I prepare my dog for life post-lockdown?
As we begin the New Year and leave the previous and somewhat difficult one behind, I could not help but reflect upon my own experiences of 2020. When reviewing our #DogKind campaign, it really hit home how much lockdowns, restrictions, children being off school, furloughing and general uncertainty have affected my family and I this year and last. It also made me realise how changes in routine brought about by this pandemic also affected our lovely, happy rescue dog, Rufus.
How the pandemic has affected ourselves and our pets
Rufus loves company, but when he's had enough he also appreciates his own space and will retreat to his bed on the landing when the time's right. Living in a family of four and with two children - when lockdown came Rufus had to quickly adjust to a permanently full and busy household!
We've all had to adapt so much this past 12 months. It's been a difficult year in so many ways, but for some, including my family and I, we have found solace in our dog.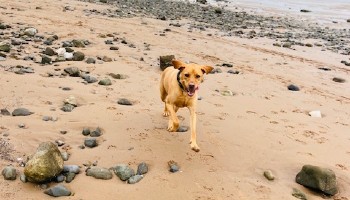 We only need to look to social media to see hundreds of examples of how our dogs have helped us through this period, not least getting us out into the fresh air for our daily exercise and vitamin D, but also simply by doing what they do best and being by our side.
I'm sure that it's of no surprise that dogs have been found to improve our mood by lowering levels of anxiety and depression, as well as by reducing feelings of loneliness and isolation, and boy - did Rufus help us all with that. At one point or another, from long walks on the beach, snuggling up to us the couch and that reassuring nudge - when dogs just instinctively know things could be better - Rufus has been the glue that kept us together.
He really helped us to maintain a normal as possible routine and gave us that reason to get up and get out into the fresh air, even when our time was limited. And to be out just for a short time hugely helped us all.
We fear that lockdown pups may be abandoned
Given our experiences with our beloved pets, it's not at all surprising that so many people have them as part of their family. It's also not surprising that the search for dogs and puppies increased significantly during the start of the pandemic.
However, with this increase in searches, unfortunately, we also fear the likelihood of relinquishments and abandonments that may follow due to a myriad of lifestyle changes, including work commitments, household incomes, a lack of research and planning and in some cases unexpected changes in behaviour.
Preparing our pets for change
While many studies looking at the impact of COVID-19 on pet behaviour are still ongoing, some have recently been published which show the pandemic may be affecting some of our four-legged friends. For example, a recent study from Dogs Trust exploring the effect of COVID-19 on dogs and their owners found increased reports of clinginess and attention-seeking behaviours as well as fear or frustration associated behaviours.
Luckily, this is not something that my family and I have experienced with Rufus yet, however, it's not to say as things go back to normal, it won't happen. We're still a nation very much restricted in our movements and so we're yet to know how Rufus will react later on.
However, despite him not displaying symptoms, we know we want a happy dog and that we need to be #DogKind by preparing Rufus for change, as separation-related behaviours are often missed and not easily spotted. Having spent so much time with us as a family, it's possible that despite being ok on his own previously, he may struggle when alone going forwards.
It's now our turn to be there for Rufus as he has been there for us. We can do this by making sure we do all that we can to ensure that he has what he needs and that he's comfortable and secure for when we return to work. We need to teach him and let him know it's ok to be left alone again for short periods, and also to provide him with the reassurance that we will be back.
Gradual routine changes can prevent your dog from getting frustrated
We hope that the following advice written by our experts will help you as it will help us in the coming weeks and months as we prepare for our new normal, whatever that may be...
Gradually change the timings of your dog's routine to the way that it will eventually be. If the time you feed or walk your dog has changed due to lockdown, then slowly start to change it back to how it was before. Doing this can prevent your dog from experiencing frustration and anxiety when their daily schedule suddenly doesn't match what they've come to expect.
Begin to gradually return your dog's routine to normal before it has to change. Consider the number of walks, location and times that are part of your dog's normal routine. Gradually adjust your walks to match this. Our dogs may not be left alone at all during lockdown or for brief intervals only, and they're probably getting much more attention and experiencing more interactions too. If this is likely to change when you go back to work, then you need to prepare them for that.
Begin to gradually decrease the amount of attention you give your dog, and increase the time they spend on their own. This may include not playing with your dog every time they ask, or not stroking them every time they nudge you. Don't completely ignore your dog as this may confuse them, but do give them something better to do, like lay in a comfy bed or chew on a tasty chew. This should help to settle them.
Here are our top 5 tips to help your dog adjust to life after lockdown:
1. Help your dog spend more time alone by encouraging them to rest in their own bed or by keeping them in a separate room while you do something else.
2. Try to keep interaction time for when you'll be available once your routine is back to normal, for example, in the evenings after dinner.
3. Give your dog clear signals about when they can be involved in interactions and when they need to occupy themselves. Chew toys or interactive toys that your dog can use without you can help with this.
4. You may also want to think about leaving the house without the dog to help your dog to gradually get used to this part of their routine again. If you need to build up this time for a longer duration or for more frequent absences, think about going to sit in the car to read a book so that you can leave the house and stay within government guidelines. However, if your dog shows any distress when left alone, then pause your plans and seek the support of a qualified behaviourist.
5. If you're returning to using a dog walker, friend or family member to care for your dog while you're busy, your dog might be very excited or even a little apprehensive having spent time with only you. It can be useful for you to remain home on the first walk or two, just in case your dog needs any extra support from you.
Help your dog by being #DogKind
Find out more about being #DogKind and helping your dog cope with being left alone.
---