Meet the long-stay rescue dogs looking for their forever home
17.05.22
A blog by our press officer, Amy Ockelford.
Every year we help thousands of dogs find love with their forever families. While most of our dogs are snapped up quickly, sadly, there are some who can take a little longer to find their happy ever afters due to health problems, behavioural challenges, or long-running investigations.
You can't buy love - but you can rescue it
Here are some of our longest-stay residents who are hoping to find their perfect match:
Meet Eric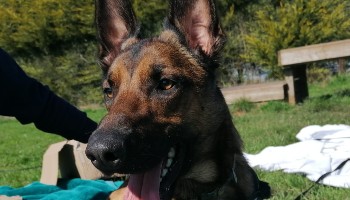 Two-year-old Dutch herder Eric was just a puppy when he was rescued alongside his mum and siblings from horribly filthy conditions in the West Midlands in October 2019.
He can be a nervous lad but once he gets to know you he'll be your best friend! He's still a puppy at heart with lots of energy and he needs an active home where he can undergo training. He would like a rural home with patient, understanding owners who can slowly introduce him to the big scary world.
He loves being tucked up into his bed at the end of the day and cuddling up to his favourite toy on the sofa.
Find out more about Eric online or contact Birmingham Animal Centre on 0300 123 8585.
Meet Dotty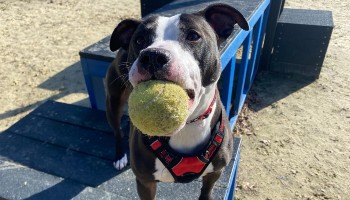 Eight-year-old Staffordshire bull terrier cross Dotty was rescued last summer having been kept locked in a bedroom with little socialisation. She's been waiting for a new home for over six months but has had no applications.
Dotty is ideally looking for a home where she'll be the only pet and will have access to a private, secure garden. She can be reactive when out and about so she needs to wear a muzzle and will need to go for walks in quiet, rural locations.
She's a sweet girl who loves to be around people and wants nothing more than a snuggle and belly rub! She's very clever and loves to play fetch or learn new tricks.
Find out more about Dotty online or contact Ashley Heath Animal Centre on ashleyheath@rspca.org.uk or 0300 123 0749.
Meet Hades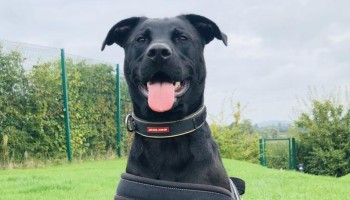 Labrador cross Hades is a big lad who can be very shy! The two-year-old is nervous around people he doesn't know but is very loving, loyal and affectionate once he's made friends.
Hades is looking for an experienced owner in a quiet, adult-only household where he can take time to settle into a new routine.
His new owners will need to be patient but confident in helping him with his continued training.
He was very under-socialised when he first arrived in our care but he's been very brave and is learning every day.
Find out more about Hades online or contact RSPCA South Cotswolds on reception@cdch.org.uk.
Meet Snowy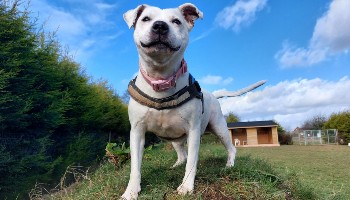 Nine-year-old Staffordshire bull terrier Snowy has been waiting for 16 months for her forever home.
Snowy is looking for dog-savvy owners who can help her with her anxiety around other dogs.
Before coming to the RSPCA her previous owner used to allow her to run free and that sadly led to some altercations with other dogs and so she must now stay on the lead and be muzzled when out in public.
She's very playful and has lots of energy so is looking for a fun, active home. She's very clever and picks up new things quickly.
She's looking for a home where she'll be the only pet and will need access to a secure, enclosed garden.
Find out more about Snowy online or email birmac@rspca.org.uk.
Meet Bandit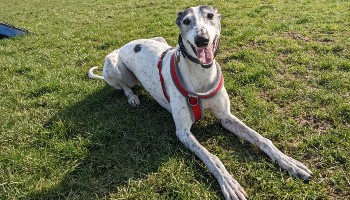 After more than a year in kennels, Lurcher Bandit is still hunting for a home. He was left very nervous after being rescued from a multi-dog household where his needs were not met.
He didn't like to be touched and it took a long time to build up his confidence but now he's built wonderful bonds with the staff taking care of him.
He loves to go out for walks with other dogs but can find the world overwhelming so needs understanding and patient owners. He loves running around and then snoozing in his bed.
He'd like to be the only pet in his new home and isn't suitable to live with children.
Find out more about Bandit online or contact Great Ayton Animal Centre at greatayton@rspca.org.uk or 0300 123 0743.
Meet Joe & Zac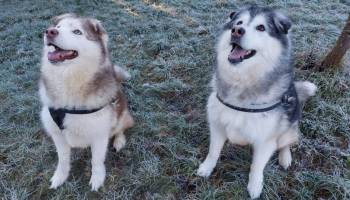 A pair of Alaskan Malamutes have been waiting for over a year to find their forever home together.
Six-year-old Joe and eight-year-old Zac were rescued in April 2021 by officers as part of a large group of dogs who'd been living outside. They were filthy, had matted coats and were very shut down.
They're looking to go to a patient owner who is willing to take them on as a pair. They'd like a home without young children or other pets.
They love to run, play and chase each other and so they would love a large, secure garden.
Find out more about Joe and Zac online or contact the Birmingham team at birmac@rspca.org.uk.
Meet Charlie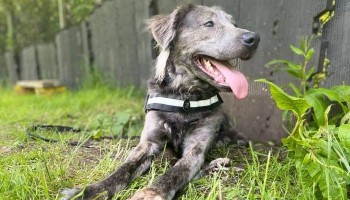 A dog who has been waiting for 16 months for a new home is hoping it'll be the third time lucky after two potential adoptions fell through.
Five-year-old crossbreed Charlie was one of 45 dogs rescued from a run-down barn in Wales in January 2021. He was terrified and had never been outside or even worn a collar.
He's come a long way and has built close bonds with his carers. He's very affectionate and loves to roll around in the grass.
He'd love a home with a doggy friend and needs a quiet, adult-only environment where he can get used to new experiences slowly.
Find out more about him online or contact Newport Animal Centre at newport@rspca.org.uk.
Meet Jake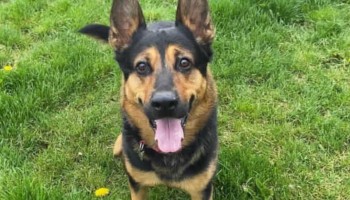 Nine-year-old German shepherd Jake has been waiting over 18 months to find his forever home.
He's a very sweet boy who can be wary of new people and other dogs but is a real softie with his friends and adores fuss and attention. His favourite thing in the world is playing with a tennis ball!
He'd like an adult-only home in a quiet, rural setting with no other pets and experienced owners who can work with a behaviourist to help him to keep moving forwards.
Find out more online or contact Southridge Animal Centre at southridge@rspca.org.uk.
Meet Clover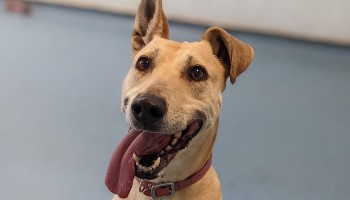 Three-year-old lurcher Clover is an active and clever pooch who loves to spend time with people and play with toys.
She's very affectionate and loves playing games or engaging with training (she's very smart!) so ideally, her new owners will continue this with her.
She has a strong chase instinct so she needs to be on a lead and muzzled when out on walks. Ideally, she'd be the only pet in her home and live with adults only.
Find out about Clover online or contact Bristol ARC on 0117 977 6043.
Meet Sue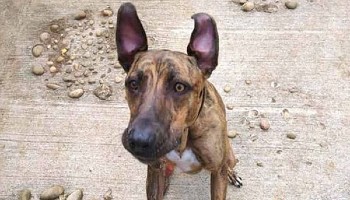 A lurcher who was found straying on the streets of Bath is still waiting for her forever home after more than four years.
Four-year-old Sue was a youngster when she arrived in our care and has spent her whole life with us. She was rehomed briefly but, sadly, it didn't work out.
Sue is sweet and clever but can get a little over-excited at times. She'd benefit from an experienced owner who can continue her training. She loves to chase so needs to stay on the lead and muzzled when out walking.
She's very affectionate and loves to curl up on the sofa after a long walk or fun game with her toys.
Find out about Sue online or email Bath Cats & Dogs Home at rehoming@bcdh.org.uk.
Meet the rest of the gang
We have so many different animals in our care who are desperate to find love.
---