null
The flame-furred feline who stole my heart
The flame-furred feline who stole my heart
Every year, we celebrate Kiss a Ginger Day on social media by promoting some of our fabulous flame-furred felines looking for homes and asking people to share pics of their pussycats with us. Today our flame-haired CEO Chris Sherwood - and more importantly, his ravishing red puss, Marmalade - take to our blog to talk about ginger cats!
I've always loved animals, having grown up with backyard chickens and three dogs, Rusty, Dusty and Patch. Dusty was very much my dog, and slept on my bed every night. Since then, I've developed a particular fondness for cats, and recently adopted my ginger moggy, Marmalade (or Marms, as he's often called!) during the first lockdown.
Marmalade and me
Marmalade was found by an inspector in his house two weeks after his previous owner had sadly died. I chose him because he's a golden oldie, which are often harder to rehome. I was very happy to provide this handsome boy with the loving, quiet home he yearned for, and he's brought companionship and fun into my life in return.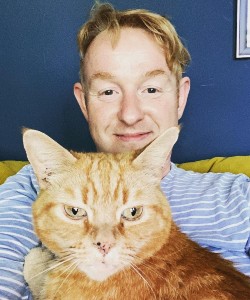 He was a very nervous and shy boy and was a little bit obsessed with food - unsurprisingly, given his past - but after a few months of care and patience, he has really settled in and is usually found sitting beside me on the sofa purring away. He still loves his treats but has a much better relationship with food now.
Marms has so many quirks that make me laugh every day! He just loves to play and chases his toys around the house. He is also very chatty and has different meows depending on whether he wants head rubs, food or to play. He also likes to cuddle up in bed with me in the middle of the night but he purrs very loudly which can disrupt my sleep!
But enough about us, let's take a look at some fun feline facts...
Did you know...
The majority of ginger cats are male. This is because the gene that determines whether a cat is ginger lies on the X chromosome. A female cat needs two copies of the 'ginger gene' to be ginger (so a ginger father and a ginger, calico or tortoiseshell mother), whilst male cats only need one copy.
In our experience, ginger cats tend to be one of the quickest coat colours to find their forever homes. It seems people (including me!) simply can't resist these ravishing reds.
Ginger cats come in four distinct patterns:
Classic (tabby)
Mackerel (striped, tiger-like, often with an 'M' on their forehead)
Ticked (no stripes or spots)
Spotted (like a mini ginger leopard!)
Many ginger tabbies like Marmalade have freckles. If you see these pop up and are worried, speak to your vet, but they're quite common in cats who have lighter-coloured noses. Marms looks very cute with his freckles.
Show me the cats!
As a redhead, gingers hold a special place in my heart, but I love cats of all shapes, sizes, colours and breeds. The most important thing when choosing a pet is to find one that matches your lifestyle and family - whether they're a ginger moggy, a tuxedo cat, or a pedigree. Whoever you choose, Find Each Other today!
And if you already have a feline friend of your own, we'd love to see your pics and video clips! Tag us on Twitter, share them on our Kiss a Ginger Day Facebook posts and tag us in your Instagram stories.