Meet the volunteers: Life as an RSPCA kennel volunteer
We couldn't rescue, rehabilitate and rehome the thousands of animals that we do every year if it wasn't for our hard-working staff and volunteers. To celebrate their commitment, we wanted to shine a light on our dedicated volunteers and all of the work they do for needy animals.
Q. Hi Sylvia, can you tell us what it is that you do for the RSPCA?
A. My name is Sylvia Avery and I volunteer as a kennel volunteer at the Leybourne Animal Centre in Kent.
Q. How long have you been volunteering?
A. I've been volunteering for 15 years now.
Q. Tell us why you decided to volunteer in the first place?
A. I decided to become a volunteer after my dog was sadly put to sleep and my husband decided we needed a break. It didn't last long because 11 months after starting to volunteer we adopted the first of many older dogs from the RSPCA!
Q. How has the pandemic affected your volunteering role?
A. During the pandemic I sadly lost my dog to cancer. She often volunteered with me and loved collecting for the RSPCA, you may recognise her from the TV show, The Dog Rescuers: Best In Show.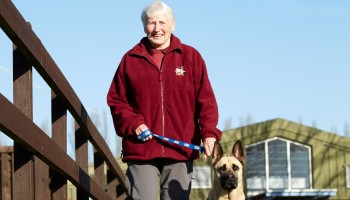 After she passed away, the team at Leybourne invited me back as part of a small number of volunteers to help keep things running. I've been helping out by cleaning the kennels and walking the dogs for a couple of hours at a time.
I am looking forward to things returning to normal so that I can spend more time with the more challenging dogs which I really enjoy.
Q. Describe what is it about volunteering with the RSPCA that keeps you coming back?
A. What keeps me coming back is knowing the difference that I can make. The staff are so busy - as a volunteer, I can spend even more time with the dogs!
Q. What's been the highlight of your volunteering role to date?
A. There have been lots of highlights, but there are two dogs I will always remember. One was a blind springer who I came in and saw every day, who I taught to go through doors, go upstairs, and how not to bump into things.
The other was another dog that growled at everything. I worked hard helping the centre's animal behaviourist to teach the dog trust. Both dogs were successfully rehomed and so the four months of coming in every day to devote time to helping them was well worth it!
Q. What would you say to anyone thinking about volunteering for the RSPCA?
A. Give it a go! It can take time to get used to the fact that a lot of the animals have not had the best start in life, but you can make such a real difference as you have time to spend with the animals that the staff don't always have.
---