Calling all kitten owners: Help us to tackle the kitten abandonment issue
With their fluffy toe beans, soothing purring noises and buckets of character, it's no wonder that cats are considered a great family pet. When looking for the perfect cat companion for you and your family, animal welfare organisations like ourselves will always encourage you to adopt and not shop. How could we not when we see so many incredible animals being left behind.
Adopting helps you dodge dodgy breeders
Our preference for adoption doesn't only help the animals without homes but it also helps protect potential buyers from being intentionally misled by unscrupulous breeders who are only interested in profit at the cost of low health and welfare for the animal being sold.
Read more: 5 actions to take to make sure that you're not funding bad breeders.
Rescue cats and kittens are hoping to find their forever home
There are also many cats and kittens abandoned or relinquished into our care each year who need to be wanted and are waiting patiently to find a loving family.
It is also worth remembering, cats from reputable rescue establishments will always be vet checked, neutered and chipped before rehoming, giving you peace of mind and the best possible start to your life journey together.
However, we know that adoption isn't for everyone. If you do decide to buy from a breeder then The Kitten Checklist is an excellent resource to use when navigating your options.
We need your help to fight the abandoned animal issue
Cats are much loved pets but they are also prolific breeders, which can be problematic for unsuspecting owners. According to the PDSA Paw Report 2020, there are 10.9 million owned cats living in the UK and whilst 86% are neutered, this still leaves 1.5 million owned cats that are not, which often leads to unexpected litters.
Currently, our research demonstrates that unexpected arrivals of cats and kittens lead to the cats generally being passed between friends, families and neighbours. Equally resulting in individuals and families making the impulsive decision to rehome a kitten without any real consideration of what it costs to have a cat or the commitment it takes to own a pet.
Sadly, we also found that owners taking on cats in an impulsive way more often than not repeat the same behaviours and do not neuter. And so the cycle continues.
Neuter at four months to avoid being caught out
While most pet owners are well-meaning and try to make responsible choices, neutering is sadly often an afterthought.
Some owners are unaware of the risks associated with an unneutered cat and haven't received the best advice on the subject, as well as not realising the health and welfare benefits of which there are many, including protecting your pet from a disease called FIV (the feline equivalent of HIV). Of course, for some, it is a conscious decision made from personal choice.
Unfortunately, many people don't realise that cats can become pregnant from as early as four months of age, and let their cats out as soon as they have had their vaccinations.
Sometimes an owner thinks that their cat is safe to roam, then one day arrives home to find their young cat in a cupboard, nestled in a box with an unexpected litter of kittens cuddled up amongst the feathers of a gorgeous hat bought for their Auntie Pat's wedding in 1998. Trust us, it happens and in so many weird and interesting ways.
When kittens are born within the home, the sudden arrival of cats can very often put unnecessary stress and burden on a household. Whilst those kittens are the most adorable thing you will have ever seen and those little meows bring the "awwws" out of everyone, it's caring for kittens is not as easy as it would seem...
All of a sudden, your curtains may become a climbing challenge, sofa - a scratch post, carpet - a toilet and your nerves - shredded. Many people may quickly discover the difficulties of trying to balance a normal life of work, family and doing the things they love, with trying to find trustworthy homes in a house full of kittens running amuck.
Percy's story
Then there are the kittens born to domesticated cats but outside of the home, just like Percy. This gorgeous boy was born under a shed in October of last year and found at three weeks of age as part of a litter of four. Their mum had been picked up by another charity unaware of her kittens in waiting, meaning Percy and his three littermates Rufus, Penelope and Rainbow were left alone in the cold, without mum's warmth, comfort and milk for over 24 hours.
Thankfully there's a happy ending, as Percy and his brothers and sisters were rescued and hand-reared by Millbrook Animal Centre's Deputy Manager Liz. To hand-rear kittens - as beautiful as they are - is a twenty-four hour a day, seven days a week, emotionally and physically exhausting labour of love and is in so many ways like having brought home a brand new baby.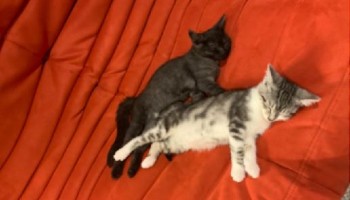 In this case, for Liz, four brand new babies were now living in her home being diligently fed every three hours until they were old enough to be returned to the centre for rehoming. And rehomed they were, not surprising really, as the care and attention they will have had, will set them up for life. Just look at how comfortable Percy and Penelope are in their new floating home in London, so much better than a home beneath a shed!
We're working together to encourage change
Charities and vets across the nation have been working collaboratively for several years, as part of the Cat Population Control Group, to encourage more people to neuter their cats and at an earlier age.
Although there was still a long way to go, prior to coronavirus we saw the numbers of neutered cats slowly increasing. But coronavirus and all its challenges have likely had a negative impact on cat populations too. Whilst there have not yet been any comprehensive studies looking at this impact, lockdown rules have made it more difficult than normal to get cats neutered.
So, this World Spay Day, the Cat Population Control Group are launching an animation that provides information and guidance to the general public on Cat Neutering during a pandemic.
How you can help us tackle the kitten abandonment problem
Our overall message from now onwards is a simple one. Please spay and neuter your cats if you can. Whilst all vets practices are open for business, service provision across the country is varied.
If you are unable to book your cat's appointment, please be respectful and patient with your vets' practices who are doing their best in the current situation. Keep unneutered cats indoors until they are neutered and follow our coronavirus-specific guidance on how to keep cats healthy and happy inside until they're neutered.
You can also help spread the message by sharing our cat neutering infographic.
Need help paying your vet bill?
If you receive benefits you may be able to get some help with the cost of having your cat spayed. Contact your local RSPCA branch, and if you live in Wales or the Midlands, you may be eligible for our cat neutering scheme.
You can also approach other charities, such as Cats Protection who may also be able to help.
Still not sure?
Find out more about why you should neuter your kitten at four months.
More from the blog
What to do if you find a pregnant cat or kittens (during the coronavirus pandemic).
---