Fun on the farm: Three heart-warming 'farm cat' rehoming stories
After data showed that it's 90% of centres and branches find it harder to rehome 'farm cats' we've launched a new rehoming campaign to help find alternative homes for cats who prefer the great outdoors. Not sure if a 'farm cat' is for you? Read on to meet some of our rehomed rescue stories...
Meet Lucy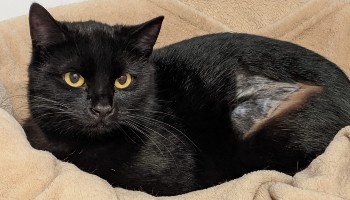 Lucy, a young female black cat, came into the care of our Macclesfield, South East Cheshire and Buxton branch in January this year. She was one of a group of feral cats who were living on farmland but the owner of the land wanted to remove them.

She was very nervous of people when she came into our care but the staff would find her secretly playing with toys in the cat pen when she thought no one was looking! In May, she was happily rehomed to a rural, outdoor home where she now lives in a specially designed cat house where she can come and go as she pleases.
Meet Massey
Massey, a male tabby cat, was adopted from Bryn Y Maen in May and since then he has grown in confidence. His owner, Helen, had a yard cat for years but when they sadly passed away she got back in touch with us to see if there were any other cats looking for a similar home.
He now sleeps and eats in the shed and the hay barn and although he's still quite elusive, Helen sets up a camera in the shed so she can check on him and he seems very content with life! Helen said:
It's a great life for a cat like Massey, he has the freedom to roam, a warm, safe environment away from traffic, and a good supply of food and water.
Meet Astra, Zeneca and Pfizer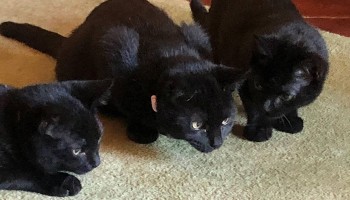 Isabel rehomed three kittens from our Reading animal centre in July after her last farm cat sadly died aged 16 years old.
The kittens named Astra, Zeneca and Pfizer, are now 16 weeks old and have settled in well to their new life on the farm. Isabel said:
They have settled in well so far. We kept them confined in the dining room at first but they are slowly exploring the other rooms too. They want daily interaction at feeding time and lots of play but they don't like to be picked up.
Our last cat loved her life - she spent most of her time outside on the rooftops and would curl up near the water boiler in the laundry room for a snooze and then be out all night surveying her territory.
If anyone has a small bit of land it's worth giving a cat a home, even if they're not necessarily cute and cuddly, cat's are naturally independent and love the freedom to roam but will be back for a little bit of praise and love.
Did you know? A new filter has been added to our rehoming webpage so that potential owners can search for farm cats online? Check it out.