Dotty for Dalmatians: Do your research before getting into a spot of bother
With the launch of Disney's latest classic film remake, Cruella, we're all about to go dotty for Dalmatians again. I've had the joy (and excitement) of having two spotty terrors in my life - both came into my life thanks to the wonderful British Dalmatian Welfare.
Dotty - who is sadly now in doggy heaven, but lived to a ripe old age, and Taya - our chocolate spotted handsome lady, who can hear a biscuit crumb drop on the kitchen floor from 100 paces.
No two dogs are the same, and both my dallies have personalities as unique as their very distinctive splodgy markings. Both have brought our family so much fun.
Previously, films like 101 Dalmatians, Teenage Mutant Ninja Turtles and even Harry Potter have led to reports of fans rushing out to buy spotty pooches, pet turtles and owls. But before you dash out and put your name on the waiting list for a rescue Dalmatian or start scouring for breeders here¿s four reasons why owning a dally is not a black and white issue.
1. Cuteness Vs hairs!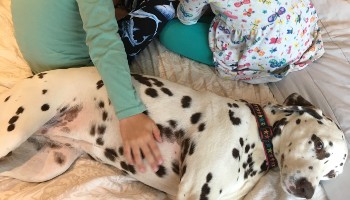 Dalmatians have the cuteness factor in bucketloads, especially puppies. I can pretty much guarantee that a trip to the park will be accompanied by shrieks of "look, 101 Dalmatians" jokes about where the other 100 are and numerous requests to have a stroke.
Fortunately, both my girls have loved getting fuss and strokes from children (although I'm sure not all dallies are quite as welcoming of sticky paws).
However, undeniable cuteness aside, having a two-tone dog is not so great for the fashion conscious. Whether you're wearing something dark or light, you're guaranteed to sport a very obvious tide mark of dog hair around knee level. And just to add insult to injury, the hairs are short, stubby and short - the perfect design to get permanently embedded in clothes, car and sofas!
2. Food, glorious food
Both of my dallies have been absolutely food-obsessed. Taya¿s nickname is the carpet shark because she lurks around under the table vacuuming up anything and everything which falls off the table.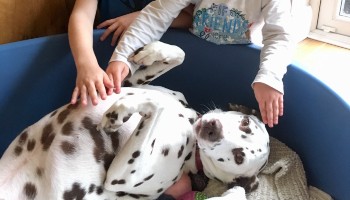 Now, while this is very handy if you¿ve got a baby who delights in throwing food everywhere, it¿s not so great when you¿ve spent hours making a beautiful birthday cake that has been demolished in six seconds flat by a dog who has jumped up onto the kitchen worktop! #truestory
Being food-focused does have some perks when it comes to dog training, however it's a bit of a downside when it comes to guzzling down things they shouldn't (see 4).
3. Bundles of energy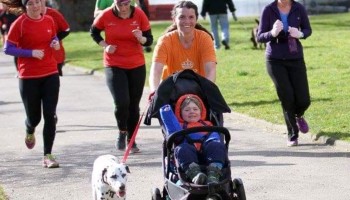 My dallies have both been absolute livewires. Pre-covid Taya was a familiar face at parkrun (or barkrun as she calls it), often seen effortlessly trotting alongside me (or the handbrake as she calls me) and a buggy as we tackled the 5k.
And while I collapsed red-faced in a sweaty heap at the finish line, Taya would be ready for another lap or two. She was particularly annoyed when we were beaten by a three-legged dog and an inflatable dinosaur (again #truestory).
While she's a perfect (slightly judgey) running buddy, like all dogs, if she doesn¿t get enough physical and mental stimulation, we¿re in trouble. She kindly lets me know by rounding up the children¿s favourite toys and tearing them to pieces. She also has developed a recent sideline of nibbling books and is particularly partial to the end of pages of murder mysteries.
4. Rude health or rude awakening
It's well known that Dalmatians are at risk from certain health problems due to being selectively bred for their spotty coats. Sadly deafness is common in Dalmatians, fortunately, both my girls have only ever suffered selective hearing problems, normally while I'm telling them not to eat an abandoned kebab in the park or to put Mog the stuffed cat down.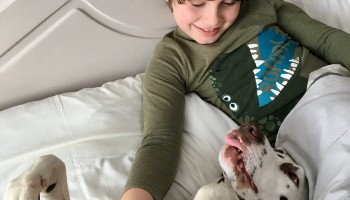 I learned the hard way that insurance is vital when it comes to owning any kind of dog and Dalmatians are no exception - especially as mine have been so food-focused, they will guzzle down sandwiches in tin foil in one gulp.
Owning a pedigree comes with additional costs and insurance is normally a bit more expensive than for crossbreeds. And as the number of candles on the doggy birthday cake grows so does the premium. I currently pay about £90 a month for my girl, although she's worth every penny to me.
Spotty, fluffy, short, tall - the right dog will steal your heart whatever they look like. Why not take a look at our ready for rehoming rescues?