Dogs in the office - The paw-fect solution or a dog's dinner?
A blog by our press officer, Amy Ockelford.
Here at the RSPCA, every day is 'Take Your Dog to Work Day.' However, across the rest of the UK, this day is celebrated annually on the Friday following Father's Day.
But is taking your dog to work really the paw-fect solution to separation anxiety, expensive dog care bills, and better human-dog bonds? Or is it a dog's dinner in the making?
While taking your dog to work with you every day sounds like a dream - there are lots of considerations before buying your four-legged friend a special office collar for the 9-5.
Here are five things to think about before taking Fido into the office:
1) Is your place of work dog-safe?
The most important thing is keeping yourself, your pet and your colleagues safe in the workplace. Some work environments aren't suitable for dogs due to hazards or public health issues, while others may be perfect for a pup to snooze and relax.
Think about where your pet would spend their time in the office and whether they'd have space to make themselves comfortable, to keep themselves busy and to exhibit normal behaviours?
2) Will your dog be comfortable at work?
All dogs are individuals and while some may love coming into a workplace to lap up the attention and spend time snoozing under your desk, others might find an office environment overwhelming or stressful.
Taking your dog to work can be a wonderful way to break up prolonged periods of time home alone, but it isn't for all dogs. Offices can be busy, noisy and strange environments for pooches, so it's important to consider whether your dog will be relaxed and content before taking them in.
3) Are your colleagues dog-friendly?
Offices are shared working spaces so it's really important that everyone is happy with a four-legged friend coming into work. Find out if any of your colleagues have any allergies or a fear of dogs before bringing the hound in for the day.
4) Will your dog have their own space?
Since lockdown, working environments have changed significantly and the way in which we work has also changed. Many offices have reduced capacity and space or may have introduced hot-desk working. It's important to remember that this might not be suitable for your pooch.
Dogs need their own space and moving dogs in and out of areas that smell like other dogs can be distressing for them. Will your dog have their own area and plenty of space to make themselves at home?
5) Do you have time to take your dog for regular breaks?
Taking your dog into work could be ideal if you spend most of your time at your desk and can take regular breaks to take your dog out for toilet breaks, to exercise, and to have a sniff? However if you've busy days with back-to-back meetings then it's worth considering whether your pet would be better off at home or at doggy-daycare?
While getting it right can be tricky, dog-friendly workplaces also bring lots of benefits for dogs and people alike!
Dogs encourage regular breaks and promote exercise which, in turn, boosts productivity and improves creativity and concentration, as well as helping to build workplace relationships. The presence of a dog in an office can also reduce stress while stroking dogs causes our bodies to release oxytocin, a hormone that may bring us closer together with the people around us and make us feel more confident and optimistic.
The office isn't for everyone!
My late rescue dog, collie-cross Sammy, absolutely loved coming into the RSPCA office every day. He was a very laid-back dog who enjoyed being around people and snoozing all day on the carpet.
He joined me at work every day for more than four years and really enjoyed being by my side, but also socialising with my colleagues and with the other office dogs.
He loved going out into the office gardens for a potter and a snuffle, and loved lunchtime walks with his other four-legged pals. He was content snoozing in his bed when I had meetings and was very relaxed as I typed away beside him.
When we lost him and took on our RSPCA rescue dog, now seven-year-old collie-cross, Storm, I knew that the office wouldn't be the right place for him.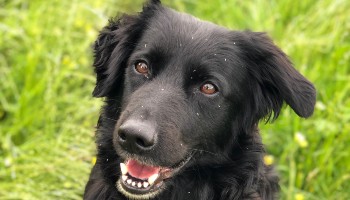 While he's a happy and friendly dog who loves to be around people as well as other dogs, he has some anxieties which I always felt would cause him to be unsettled and stressed in a busy office environment.
He can be easily spooked by sudden movements and loud noises, and is very reliant on me for reassurance. I feel he would struggle if I was in a meeting or busy with tasks.
While I'd love to take Stormy into the office, I know it wouldn't be what's best for him and my priority is keeping him happy. So if I have to head into the office then Storm spends the day with my parents or goes to the dog-sitter where he loves to play with his four-legged friends!
It's made me realise that dogs really are individuals and what's best for one may not necessarily be best for another.
Developed by dog behaviour experts and based on new research, our #DogKind campaign helps you to better understand your dog's behaviour. Discover how to make your dog the happiest pooch on the block.
---