Meet the volunteers: Life as an RSPCA dog walker
We couldn't rescue, rehabilitate and rehome the thousands of animals that we do every year if it wasn't for our hard-working staff and volunteers. To celebrate their commitment, we wanted to shine a light on our dedicated volunteers and all of the work they do for needy animals.
Q. What's your name, and what do you do for the RSPCA?
A. I'm Pam Benwell and I volunteer as a dog walker at the RSPCA Ashley Heath Animal Centre in Dorset. I am also a trustee for my local RSPCA branch.
Q. How long have you been volunteering?
A. I've been volunteering at the centre for over 25 years. I started in the late 1980s helping with the fundraising gala days for the branch that were run at the centre. I have become more involved as time has gone on!
Q. Tell us why you decided to volunteer in the first place?
A. I have always loved animals and have wanted to help them. We had adopted from the RSPCA before and a friend of mine (who was a trustee) suggested that I come along and help out as a volunteer. I've been volunteering at Ashley Heath ever since!
Read more: Volunteer as a branch trustee and make a difference for animals today.
Q. How has the pandemic affected your volunteering role?
A. Sadly during the pandemic the centre had to reduce the number of people that could come to the site and I also couldn't do my regular dog walking. However, I continued to take animal food and other items to the centre that had been kindly donated by friends and family.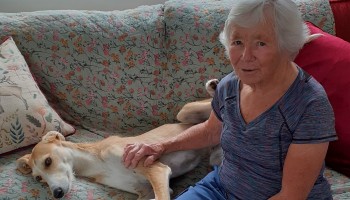 I also volunteer for the Bournemouth, New Forest and District RSPCA Branch. We run a clinic in Bournemouth where I am on the committee as a trustee.
This role has kept me busy during the pandemic along with my volunteering for the Dorset Blind Association.
Q. What are you most looking forward to when you can restart volunteering?
A. I am very much looking forward to returning to Ashley Heath and walking the dogs. It's so important for them to be able to get out of the kennels and get some exercise. The staff team have been making sure that every dog gets their regular exercise while the volunteers aren't able to work. Once we return it will allow the centre staff more time to do other important animal welfare work.
As volunteers, we can spend more time improving the dogs' socialisation skills and preparing them for rehoming. Spending quality time with the dogs is great for improving their socialisation skills and preparing them for rehoming. I've also missed the other volunteers I walk dogs with and all of the staff too. It will be nice to see them all again!
Q. Describe what it is about volunteering with the RSPCA that keeps you coming back?
A. I enjoy it! I love getting the dogs out for a walk and meeting up with my friends at the centre.
Q. What's been the highlight of your volunteering role to date?
A. It's lovely to see animals build in confidence and improve in behaviour so that they become ready for rehoming. I've also adopted many dogs and cats from the RSPCA, including my Lurcher, Abbie who you can see in my photo.
Q. What would you say to anyone thinking about volunteering for the RSPCA?
A. If you're an animal lover and enjoy mixing with people, then volunteer! There are lots of different ways you can get involved, so why not have a go.