null
How I prepared my dog ahead of bringing home our new baby
How I prepared my dog ahead of bringing home our new baby
A blog by our press officer, Hatti Mellor.
During lockdown my Mum sent me a card in the post, it read 'Whoever said diamonds are a girl's best friend never had a dog'. And she is right; since I adopted my dachshund Heidi in January 2015, she has been constantly by my side - whether we're heading out for long walks on the South Downs or watching box sets on the sofa at home.
Heidi has also had lots of big changes in that time as my family grew and I welcomed two children William and Libby in 2017 and 2020. A growing family is a blessing but it also has its own set of challenges and creates disturbance and new routines in the home - especially for four-legged friends!
Preparing my dog for the changes to come
I am lucky to work at the RSPCA and to have access to a wealth of knowledge and information on how to prepare my best friend for the upcoming changes. Although Heidi is also an older dog and takes things in her stride, I still wanted to help her as much as I could.
Hints and tips for helping your dog cope with a bigger family
I wanted to make sure that Heidi felt safe and secure in her home so I created a cosy spot in her favourite place in front of the radiator with a big soft bed inside a large crate. Although we don't shut the door of the crate, it creates her own little space.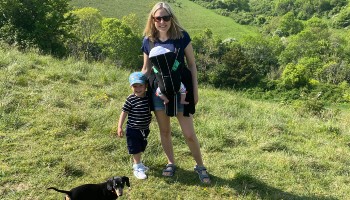 Plus, the children are always taught from a young age that when Heidi is sleeping or resting in there she needed to be left alone. We also had the nursery set up and the pram in the house in advance for Heidi to sniff and explore before bringing home Libby.
For dogs that have no experience of children at all, our animal experts recommend using CDs or other audible devices to gradually introduce the noises babies can make - like crying - to your pet so that your dog can get used to hearing these sounds.
In our home, Heidi has never been excluded from being close to the children and interacting with them and so she has experience with young children and new babies - however, she's never left alone with them.
Compassion and understanding is key
Children growing up in a home with a dog can be hugely beneficial, they can form a strong bond and it can teach children compassion and an understanding of all animals early on in life. My two understood from a young age not to approach Heidi when she is eating or sleeping and they have fun together playing and being close under supervision. They also know the signs to look out for so we know how she is feeling and if she is happy.
Find out more about understanding your dog's body behaviour.
Children often see dogs when we are out and about during the family's daily walks but it's important to explain that not all owners want their dogs to be approached and that not all dogs are confident having people approach them out of the blue. It's always important to ask the owner first and to understand how the dog might feel.
Ask for support
Sadly here at the RSPCA, we do see dogs abandoned through no fault of their own, and sometimes this can be because a new family no longer has time for their pet. Perhaps think about asking for support from family and friends in those busy first months with help walking the dog until you can get into a routine.
A dog really is a girl's best friend
Personally, I found having to get up and outside for a walk each morning really helped me in the early days when you have a young baby and can feel a bit lost. Heidi's 15 years old now but I'll never forget her constant loyalty and companionship over the last few years during which we've seen a lot of changes in our life. It turns out, as always, Mum was right.
Dogs and children