Here's how you can campaign for animals from your sofa
A guest blog by Lauren Wylde, our campaigns officer.
To celebrate National Volunteers Week, we want to share a purrfect way you can help countless animals, wherever you're based across England or Wales!
Campaigning is an invaluable part of our work, and we can't make changes to animal welfare without supporters like you.
From quacking ducks to mooing cows and barking dogs, we believe all animals deserve their voice to be heard. We campaign to secure a kinder world for animals. Will you add your voice to help theirs be heard?
What is our campaign network?
By signing up to receive our Give Animals a Voice campaigning email newsletters, you'll get our most important campaigning actions straight to your inbox. You'll receive our monthly newsletter where we share with you our top campaigning actions alongside lots of handy information about each campaign.
Additionally, you'll receive our more urgent campaign-specific emails asking you to take urgent action to help needy animals. We send these out when we need you to act fast so we can make as much noise as possible on behalf of helpless animals. We can't do it alone.
Three reasons to join our network of passionate campaigners
Still not convinced? Here are our top three reasons you should sign up to help to give animals a voice:
1. Help animals in so many ways and all for free!
Campaigning for us is something you can do to make a real difference to animal welfare, without having to pay a penny. Being able to help change innocent animals' lives for free is sure to get anyone's tail wagging!
Each of our campaigns are thoroughly thought out and we like to keep our campaigning actions varied to have the highest impact. By joining our campaigns network, you'll have the chance to complete various campaigning tasks including:
Signing vital petitions
Emailing leaders such as your councillor, MP or MS, or the Home Secretary (using our pre-populated emails to make it super quick and easy!)
Using social media to share our messages, or to Tweet change-makers
Completing our essential research or information surveys to help us to better help animals.
2. You can stand up for animals anywhere, any time
Too busy to commit to a regular volunteering role, but still want to make a real difference to animal welfare? No prob-llama!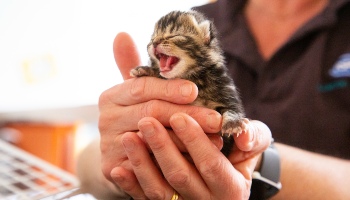 Our campaigning activities can be done on a PC or mobile device while you sit on the train, lounge on the sofa, or stroll through the park. With most of our campaigning actions taking just a couple of minutes, you'll be helping to change animal welfare for the better in just a few clicks.
By joining our campaign network, you'll get to receive our newsletters straight to your inbox. We do all the heavy lifting for you, meaning you won't need to go looking for our campaigns or how you can support our campaigns work. We aren't kitten you - it really is that easy!
3. You'll be helping to make a real difference to animal welfare
You'll be joining an empowered, compassionate community that makes a genuine difference to animal welfare across England and Wales. Our current campaigning network contains over 200,000 brilliant campaigners.
Throughout 2021, we took over 160,000 campaigning actions on behalf of innocent animals. This included:
Together, we have reached some incredible animal welfare milestones and made hiss-tory with landmark legislation. In recent years alone:
We secured a vital ban on third-party sales of puppies and kittens
Ended the cruel use of live animals in circuses
Welcomed tougher sentencing for the worst cases of animal cruelty.
Although these achievements reflect all our hard work, there's always more that can be done for animals. They'll always need people like you to advocate for them, speaking up for those that don't have a voice.
Will you join us and campaign on behalf of animals?
By joining our campaigning network, you'll be making a huge difference with every email sent, every petition signed and every social media post shared.
---