null Calling all young photographers: Enter your animal pics to win! 
Calling all young photographers: Enter your animal pics to win! 
We're offering young people the chance to win amazing prizes in return for them getting snap happy with their favourite animals.
All animals welcome! From cats and dogs to hedgehogs, guinea pigs and sheep - Under 19s can enter their eye-catching images into our Young Photographer Awards.
The RSPCA Young Photographer Awards has now opened for entries (closing date 16 August) and judges are hoping for an even bigger bumper crop than last year's record-breaking 10,000-plus entries.
With the country gradually coming out of lockdown, it's a great chance for young people aged 18 or under to get out and about to take wonderful animal photos. Last year's competition saw amazing winning images from young people from all walks of life, featuring all species of animals - from deer and kittens to giraffes and moths - which were taken on a range of different cameras, including smartphones.
There's something for every age group
With eleven different categories to choose from this year, there's something for every age group and skills level with some fabulous prizes to be won.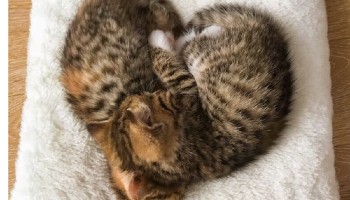 New for 2021, is the school challenge, the 'Animal Welfare Watch' category, asking young people to show a pet, a wild animal or farm animal in a photo that demonstrates one of the five essential welfare needs of animals. These are food and water, bed and shelter, health, natural behaviour and having company.
The photo could be really simple; from an animal enjoying some food or a drink or settling down for a rest, to showing how it stays healthy, what it does when it's behaving naturally and what type of company it prefers. Whoever wins this 'Animal Welfare Watch¿ category will also win a prize for their school. There are two prizes up for grabs in this new category, one for under 12s and another for 12-18 year olds.
You can take part from the comfort of your own home
The popular 'Small World' category launched last year delivered the competition's overall winner for 2020. Introduced during the 2020 lockdown to encourage children to create a photo while still keeping safe, the Small World category demonstrates just how many aspects of the animal kingdom it's possible to spot close to home.
With so much to appreciate about our immediate surroundings, pictures in this category could show anything from a pet, local wildlife or nearby farmyard friends to tiny creatures spotted while out on a walk, in a garden or a window box.
Judges include wildlife photographer and TV presenter Chris Packham, wildlife photographer and former competition winner Catriona Parfitt, professional wildlife photographer and photographic guide Ellie Rothnie, wildlife photographer, filmmaker and previous winner Dani Connor and the RSPCA's multimedia manager Andrew Forsyth and senior photographer Emma Jacobs.
Sponsors of the competition are Nature's Images (wildlife photography holidays), Camtraptions (camera traps for wildlife photography) and Wildlifephoto.com (resources for nature photographers).
It's a great way of getting close to nature
Judge, wildlife champion and our Vice-President Chris Packham said:
I want to encourage as many young people as possible to take photos because it's a great way of getting close to nature.
When you're focusing on that one specific thing to get the photo, it allows you to block out the rest of the world and just think about that one task and that one subject, whatever the animal may be. Perhaps it's your pet, or a deer you've spotted in the woods or even an exotic bird that's flown in from overseas.
But whatever it is, even if the photos don't turn out as you planned, you can still have had a productive experience, because you've used photography as a means of better understanding your subject by looking at it in more detail. So I think there's a lot of wins when it comes to photography - and not necessarily just from the competition itself.
Enter for your chance to win a weekend photography break
There are eleven categories; under 12 (taken with a camera), 12 - 15 years (taken with a camera), 16 - 18 years (taken with a camera), under 12 (taken on a mobile/device), 12 - 15 years(taken on a mobile/device), 16 - 18 y(taken on a mobile/device), Picture Perfect Pets, Small World, Portfolio, Instagram and new for 2021, Animal Welfare Watch (Under 12 and 12- 18).
As well as winners being chosen from each of these categories by the judges, an overall Awards winner will be chosen, who will receive a weekend photography break, Deer Rut Special UK, with award­-winning wildlife photographer Danny Green's team at Natures Images. Worth £625, this fabulous prize includes two nights' accommodation for the winner and a parent/guardian.
The overall winner will also receive an RSPCA Young Photographer Awards trophy. The winners will be announced in December 2021 at an awards ceremony hosted by Chris Packham.
Chris added:
I like looking at the work of young photographers. They're able to make pictures which are really, really exciting. Very often they haven't learned the perceived rules that as adults we impose on ourselves when we're making things like photographs. As a consequence, young people see with fresh eyes and they break the silly rules which don't really exist anyway.
The RSPCA Young Photographer Awards is always really exciting because we get such good entries. We're really looking forward to seeing this year's animal photos.
Entering the competition is easy!
Hopeful entrants can submit their images online.
Find out more about the 2021 Awards.
The closing date for entries is 16 August.