Make waste work for wildlife by building a DIY bug house
We interviewed Bob Monkhouse, our passionate centre volunteer (and resident bug house builder!) all about the story behind his DIY wildlife habitats...
Q. Hi Bob! How long have you been an RSPCA volunteer for and what does your work involve?
A. I've been a volunteer at RSPCA Bluebell Ridge Cat Rehoming Centre (Sussex East & Hastings Branch) for nearly four years now. I help with keeping the grounds clean and tidy and carrying out basic repairs around the site. I've had lots of great times with a great team during that time!
Q. So how did you first come up with the idea to build your bug houses?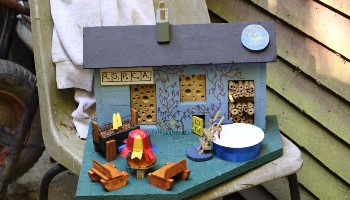 A. Bugs - not everyone likes them - but hey! There are more bugs in this world than humans and they are fascinating little creatures.
My idea to create bug houses was first born out of a desire to find a fun way to recycle the high number of plastic & waste items we humans dispose of into the environment, including our oceans, every year.
I wanted to find a way that we could all make waste work for wildlife instead of harming our animals and our planet, and so I came up with bug houses!
Q. Are DIY bug houses easy for people to make at home?
A. Absolutely, you just need to have an 'I can build that' attitude and away you go building the frame you want. DIY houses are a great family project if you have children too. While we're in lockdown for a little bit more, and with the weather getting warmer, why not hold a DIY bug house-building party?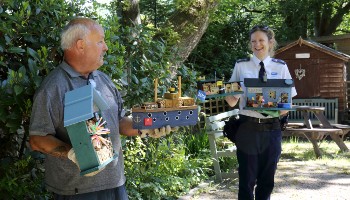 I would always say listen to children's ideas and thoughts, they are our future and they can come up with some wonderful bug house designs. Listen to their creative ideas but keep the toolkit safely away and in the hands of the grown-ups, of course!
A saw and some nails, and away you go. All you need is old bits of wood, screwed together and you have a bug house.
Here are some other building materials that you can use to make your own bug house and to add more detail:
Bits of stray wood
Bamboo cuts
Toilet roll
Small plastic bottles or pipes
Straws
Old buttons
If you have children around you or any creative friends or neighbours, I'm sure they'll have some brilliant ideas. All you need to do is find an old pallet of wood, and you're ready to get started!
Q. Where did you get the idea for your bug houses?
A. My first idea came to me after I was asked if I would like old bits of wood from my granddaughter's old bed. At the time, I was starting to build planters and potting tables for the centre from old pallets I had gathered. Of course, recycling a bed frame that was no longer wanted was one more way I could help the environment. Oh, and the bugs don't mind their house being second-hand - they would rather a nice, new habitat than see it wasted at the bottom of our sea!
Q. What kind of bugs can you attract with a bug house?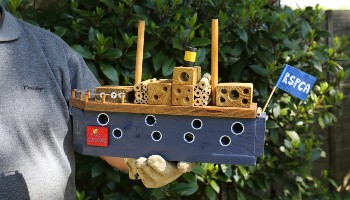 A. The creepy crawly ones that our children are always looking for. Sorry Mums! Spiders, centipedes, woodlice, ants, and anything else with six or more legs can be brought out with a well-located bug house. It's all part of the fun. I¿ve recently had a ladybird move into one of mine!
Q. Where is a good place to set up a bug house?
A. Anywhere you can that will likely have local wildlife. Your garden or any wooded area will work brilliantly. Make sure that you choose somewhere that is out of direct rain unless your bug house has a roof or is waterproof. Also, try to pick a location away from predators, such as birds. I recently made a dovecote before realising that an animal rescue centre full of cats probably wouldn't be the right setting!
Q. What bug houses have you built and where does your inspiration come from?
A. You can build anything that you or your children can create in your imagination. I have built some outlandish bug buildings for RSPCA Bluebellridge Cat Rehoming Centre where I volunteer so that during these strange times, people visiting our site can smile at my designs.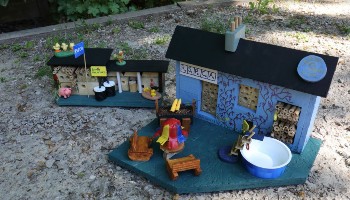 When we reopen to the public, I hope they'll continue to be a conversation piece and will encourage childrens' curiosity and learning. For example, when children read the names of the bug houses and ask their parents - "what does 'Bugmuda Triangle' mean?"
In terms of the different designs and interiors - the inspiration is everywhere once you start looking and the options are endless. For example, the bugs love swimming in the Dairylea pot spa pool! I've even built a Galleon & Viking longboat - both decked out with bug hidy holes.
The decks lift off so that you can look inside and see the bugs that have come by for a visit that day. For these, I worked with another volunteer who is a skilled seamstress - she made all of the sails for the boats and she even made bunting for a Christmas bug box which we sold with all profits going to the rescue centre of course.
Q. What part of the bug houses do you like building the most?
A. I started building my bug houses to put a smile on people's faces during lockdown and to recycle the many items that usually get thrown in the bin. With every new design comes a new creative challenge and that's all part of the fun!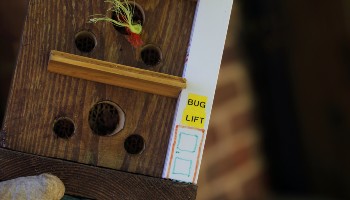 I love designing tiny items like benches, bug swimming pools, flags, cannons and even a bug bbq! It gives me great pleasure to create something so lifelike on such a tiny scale. I also love playing around with all the colours to make the bug hotel as visually appealing as possible!
Of course, even the most simple designs will be effective in attracting bugs. The design element is all part of the fun for me. There really is no limit as to what you can do, so why not spend some time in nature and have a go at building your own?
How to attract wildlife into your garden
Building bug houses is a great way to meet some of the creepy crawlers living in your garden and the local environment. You might be surprised to find just how many different creatures you have around you! Explore our interactive garden to find out what attracts wildlife and how to help them throughout the seasons.
---