Influencer, Arielle Fox on how her rescue dogs helped her fight chronic illness and depression
As #BlueMonday rolls around again - which is supposedly the most depressing day of the year - we're bringing some positivity with this blog from chronic illness and mental health influencer, Arielle Fox. Here she talks us through her chronic illness and how her best buddy, Finny, helps her daily.
My illness has been holding me back since I was a teenager
It all started when I was 12-years-old, experiencing pain monthly to the point where I had to be rushed into A&E. The pain began in my abdomen which then spread to my thighs and lower back. Something was severely wrong but, frustratingly, the doctors couldn't find the cause.
Years went by and I started to actually believe that I was crazy, overreacting, or even weak. This lasted until I was in my early twenties when I was finally diagnosed via laparoscopic surgery with Endometriosis and Adenomyosis.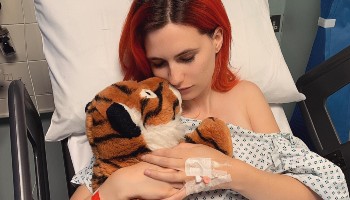 At last, a diagnosis, I thought! But to my dismay, there's no official cure, just management options, and all of them came with bundles of "fun" side effects. But at least I had answers and I had found solace in online communities like Endometriosis UK, which was full of other women suffering from these illnesses.
I learnt that one in 10 women of reproductive age in the UK suffers from endometriosis - which is just staggering.
Learning to cope mentally and physically
So, how did I cope with the mental and physical strain until then? Well, it seems simple, but it's all thanks to my gorgeous first pooch Jack (the world's laziest name for a Jack Russell!). Before being diagnosed, during those times when I felt low and didn't have enough strength to see my friends - Jack was always by my side.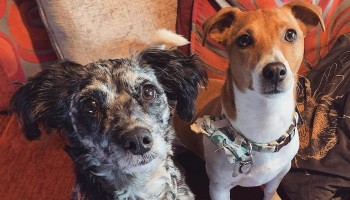 He would follow me around the house and lie next to me when I had flare-ups. Jack also encouraged me to get out and stopped me from lying in bed all day. I have always loved animals and been passionate about animal welfare and so having a dog to look after really helped me to stay active and gave me a reason to get up every morning when I was feeling low.
When I left home, I had to leave Jack with my parents as he was too old to handle the move and had bonded with my family. It was hard not having him with me but after settling into my new home and once I was able to responsibly take sole care for another dog, I adopted Finn from the RSPCA! Finn is a Jack Russell too (you see a pattern here?).
Fabulous Finn helps me every day
Finn is an ex puppy farm pooch with plenty of his own little hang-ups as a result of his horrible past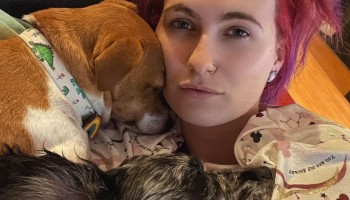 but we connected instantly and while I know all dogs are amazing, this little chappy had that exact same support streak as Jack did.
He would stay close to me when I was sick and encouraged me to get out every day for long walks, stay social and not relapse mentally.
My condition means I also have to have regular surgeries and I know now that I can keep strong throughout these dark times with Finn by my side (as cheesy as that sounds).
I am no longer afraid thanks to my gorgeous doggies!
So, moving on to current times, I am now 28 and have another doggy called Bandit. She's not a Jack Russell but the same size. We're unsure of her breed but she's insanely floofy and cute. Bandit was also rescued from a puppy farm by the RSPCA and is an amazing support dog too!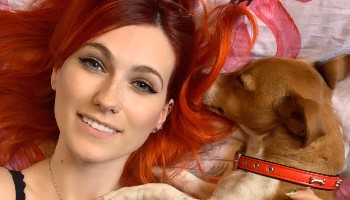 I'm currently awaiting my (fingers crossed) final surgery which will be a full hysterectomy to cure my Adenomyosis and a final removal surgery for my Endometriosis (as I have decided my body can't handle any more surgeries). I am no longer afraid thanks to my gorgeous doggies!
It's easy to underestimate the power and influence a pet can have on your life and I honestly don't know how I would have coped without mine. Making them happy, training them, bonding and snuggling with them is enough to make my heart melt every day, so thank you to all the doggos and to the RSPCA for helping me to find my gorgeous pooches.
Caring for your dog's mental health as well as your own
I always knew that dogs were sentient beings and could feel emotion like we do but through my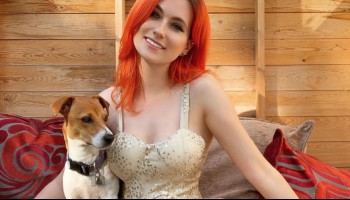 personal experience, this fact really did hit home!
It's essential to look out for your dog's welfare and mental state along with your own. Be #DogKind and check out the RSPCA's Head of Companion Animals, Dr Sam Gaines' blog to learn how to support your dogs as much as they support you!
How to protect your pet's mental health during the pandemic.