null
Adopting kittens during the coronavirus pandemic
Adopting kittens during the coronavirus pandemic
A blog by George Stoneman, our dedicated marketing executive and cat dad to kittens, Lola and Olive.
2020 has seen huge numbers of cats and kittens finding their forever homes. Two of those are Lola and Olive from our Milbrook animal centre...
Why did you choose to adopt your lovely kittens from the RSPCA?
We never had any intention of adopting a cat this year, but right before lockdown our beloved 11-year-old fluff, Ralph, passed away. The enforced time at home really emphasised how much our house missed having a cat in it. With us both working from home it seemed like the perfect time to bring a new kitten (or kittens) into our life.
Being part of the RSPCA team, there was only ever one place that I considered starting our search for our perfect match. Working in fundraising on our cat crisis campaign, I know first-hand how stretched animal centres get during the spring months with kittens, and so everything just felt right!
How was your experience adopting kittens during the pandemic?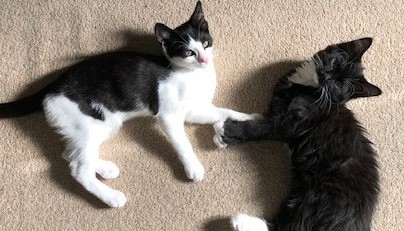 Our experience was brilliant, if not slightly different! We were one of the first to rehome under the new Defra/Covid guidelines.
We had our virtual home visit over FaceTime and got to "meet" our new arrivals through the Millbrook Facebook and any videos they uploaded.
We also got lots of lovely photos and videos from their foster Mum. Despite the social-distance regulations, everything went so smoothly!
The centre also arranged for us to have a call with the kittens' foster Mum ahead of the adoption, which meant we were able to get a sense of their personalities and behaviours, as well as the food, litter and toys they loved. It was a massive help for us as we were able to be 100% prepared for the kittens' arrival.
Being fully prepared also helped Olive and Lola settle in quickly, which was a big stress reliever for us. Welcoming two cats into your home is daunting! Neither of us had experience with kittens since our childhood and so being able to ask questions and be provided with all the hints and tips beforehand was so useful and hugely contributed to an amazing adoption experience.
Why did you choose to adopt two kittens?
Based on our working schedules and the age of the kittens, the animal centre recommended that it was preferable for us to adopt two. That way, the kittens could keep each other entertained, and by having each other, their stress levels would hopefully be reduced when we eventually return to the office.
Plus, as they had been in foster care together, we just didn't want to split them up! They're typical sisters who love nothing more than a play fight and stealing each other's toys, but always like to sleep next to each other and give each other baths. Although, we think that they're half-sisters as Olive is so fluffy and Lola is so tiny!
How are your new rescue kittens settling into their new home?
They've settled in really well. They've been here five months now and arrived at just 12 weeks old, so we've seen them really grow into the house.
They've explored every nook and cranny not covered by kitten proofing defences and having been neutered and vaccinated, they're now also starting to explore the garden (and any insect that moves!). It's been so amazing to see them settle in and make this new space their home.
What advice do you have for anyone looking to adopt a rescue animal?
As someone who has adopted successfully, I'd say do it! It's so fulfilling knowing you've rehomed an animal that was otherwise homeless. But also, if you do, make sure you're doing so with full commitment, especially with kittens!
Meet our rescue animals
Are you looking to adopt a rescue animal? We have lots of rescue cats and kittens ready for their forever home right now. Sometimes you might have to wait a little while for your perfect match, but trust us when we say that they're always worth the wait!