How do you adopt a pet during Coronavirus? Rehoming rescue animals during a pandemic
A contributor blog by our Birmingham animal centre manager, Deborah Caffull and animal care assistant, Charlotte Brown.
Whilst we're all trying our best to deal with the current pandemic crisis and learn to adapt our lives in all of the ways that help to keep us safe, our furry friends here at the centre are none the wiser!
Adapting to a new way of adopting
Knowing that all of the right provisions needed to be in place before we could focus fully on our rehoming efforts, our rescue animals waited patiently - and so did we. Our team kept busy keeping the animals entertained, and the animals did the same for us! The news came in, and we were given the go-ahead to rehome again.
We had a new responsibility now to work in ways that complied with the latest government and health and safety laws. It became vitally important that we adapted quickly and moved forward safely in our job to find our rescue animals their forever homes.
Initially, there were mixed feelings within the centre - both of excitement and of uncertainty. Excitement for animals whose journey to be rehomed had earlier been put on hold but now had the green light. And feelings of uncertainty as to whether we could find suitable homes for our beloved animals with everything going on...
Adjusting to a new 'normal' at the animal centre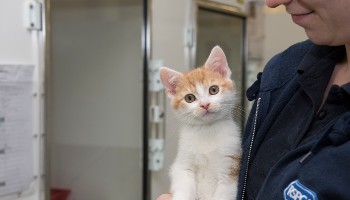 Over time, our cats, dogs and small animals started to pop back up onto our website. This time, we only added a few new rescue animals at a time so that we could manage the anticipated extra workload of many new electronic applications coming in.
Leaving behind the face to face enquiries we were used to and adapting to less familiar processes was an important learning curve to adjusting to life at an animal centre during a global pandemic. We've adapted our ways of communicating, more so now through phone, email and video, ensuring the best suitable homes are still found for every rescue animal.
We always assess each individual animal and each individual potential adopter on their own merits. There are few hard and fast rules in rehoming, so when matching an animal to a potential family, our primary concern is always, will this adopter meet the welfare needs of this animal? Luckily, we can match families through phone conversations and other ways, meaning our animals can still be matched with their forever family during the pandemic.
Our supporters have helped us through this lonely time
Being appointment only, there's no longer anyone walking around the site. Currently, only dog adopters get access to part of the site, and this is for controlled meets outside in our secure sensory garden enclosure.
The centre has gotten much quieter without visits from the public, but thankfully we still have our supporters keeping in touch and even sending through much-needed donations from our wish list.
Our lovely supporters have kept us updated with their amazing rehoming stories through social media, and they've kindly made a special effort to check in on us whilst we're working - always sharing their well wishes with us.
What is a typical day at the rescue centre like now?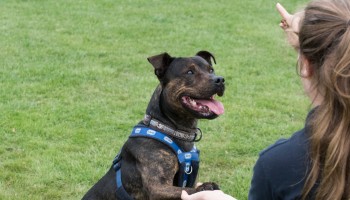 We've found that a lot of confidence has been gained through adapting to our new process, especially with our team using the phones more, in line with social distancing regulations.
When contacting potential adopters, we start off with our health and safety Covid-19 questions before moving on to discussing the selected animal(s). After the phone call, videos are sent to potential adopters of the animal. It's the best way we can show off their wonderful characters!
We dip into our selection of captured videos and share them with the potential new owners so that they can meet - if only virtually! We then go through all our normal checks, matching up the animals to their new homes; all electronically of course.
We then look to send out a shopping list of items we sell in our shop so that new owners can select items they need, or that they just want to spoil their new pet with! And finally, just checking in with the new adopters again and making sure that they're all prepped and ready to go.
Adoption day: What does it look like now?
All animals are collected at the centre by the new owners. On arrival, adopters buzz the main gate before being asked to remain in the car park. We then meet them outside.
On adoption day, it's all about finalising the adoption paperwork, talking through the collection process, and completing the rehoming. We also cover an adoption checklist on the morning of adoption day with the new family. This ensures that we've covered all bases and allows the new owners to double-check any final questions before later arriving to collect their new pet.
We all know how exciting it is taking your new pet home, but it's just as exciting for us here to see our dogs, cats and small furries go off to their forever home! It's truly the best ending.
Afterwards, we carry out two separate follow up calls to check-in and make sure that everything's going okay. We always make sure that adopters are aware we're here for them when they need us!
The post-adoption support starts with a day one phone call followed by a seven-day phone call. This is where we rarely find ourselves surprised by some of the updates we receive; such as how the new addition has completely made themselves at home! But best of all is the receiving of photos, videos and stories of the new family member all settled in.
Thank you for supporting animal rescue centres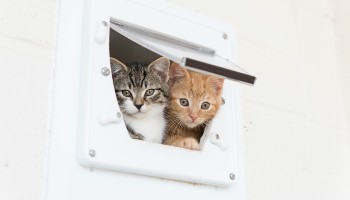 We have had such an amazing response from the public who are so grateful that we are still able to rehome. All of the support makes what we do so enjoyable and rewarding.
Working with the animals, but also in reception, I get to see the whole process from the beginning to the end. I am proud to say that the team has worked hard and has successfully adapted to the recent changes. I truly believe that we're now providing safer and better customer service, despite the challenges we've been faced with. We're forever thankful for the kindness, understanding and generosity of our supporters.
Are you looking to adopt a rescue animal?
Meet our animals looking for their forever home right now.
The process of adopting a rescue animal from an animal centre may vary depending on the centre. All of our animal centres continue to abide by the necessary government official health and safety measures to help fight Covid-19. Please contact your local centre to find out whether they are rehoming at this time. Stay safe.
---