20 reasons for animal lovers to be happy about 2020
A blog by Hannah Gransden, our Digital Content Editor.
If there was ever a time that we needed a large dose of happy news the most, it's now! 2020 was not without its challenges and resets. However, we've found at least 20 reasons why 2020 was been a roaring success for our furry, feathery and scaly friends. Read on for our roundup of 'good news for animals' in 2020...
1. Wild animals are banned in circuses in Wales
The Wild Animals in Circuses Act, which bans the use of wild animals in circuses in England, came into force in January 2020 when current licenses expired. On 1 December 2020, a ban also came into force in Wales - thanks to the Wild Animals and Circuses (Wales) Act. After years and years of campaigning, we're finally seeing a ban across both England and Wales. Thank you to all our supporters who after many years of campaigning, have helped to make this happen. We did it!
2. We saw a planet reset as people stayed home in 2020
With people staying home for most of the year, the earth has grown wilder and cleaner. We've seen blue skies over grey cities, clear waters in polluted canals and we've even seen millions of baby turtles hatching on India's empty beaches while wild animals roam boldly in locked-down cities. In many ways, 2020 was a reset for the world and our animals. Staying in with Netflix has never been such noble work!
3. Our emergency coronavirus appeal raised £1.8 million for needy animals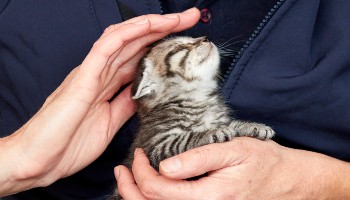 During the coronavirus pandemic, we've had to find new ways to keep rescuing, rehabilitating and rehoming animals. We had to face animal centre restrictions, charity shop closures during the lockdown, as well as other challenges such as smaller teams and cancelled fundraisers.
We could never have helped as many animals as we did if it wasn't for our supporters, donors and volunteers. Thank you for continuing to support us through these uncertain times and refusing to give up on the animals that need our help!
4. Our longest stay horse found a home after six years in our care
In 2014, Hope was abandoned and left for dead at just six months old. Our hard-working team nursed her back to health and continued to care for her while we looked for her forever home. In October 2019, she was spotted online by Lauren Barker. Lauren visited Hope for the second time in the summer, and on 12 September, Hope joined Lauren in West Yorkshire. Lauren said: "I was so surprised at how quickly she settled. She's in the field with some friends' horses and she's just besotted with them."
5. Boris and Biden bring first ever rescue dogs to office
For the first time in history, rescue dogs have got the top jobs in London and America with both Biden and Boris having rescue doggies in office! We're so happy to see the prime minister and president adopting and not shopping and we're so happy to see the pair happy in their new homes. Let's hope to see more rescue dogs in the future!
6. Nearly 15,000 volunteers helped animals in 2020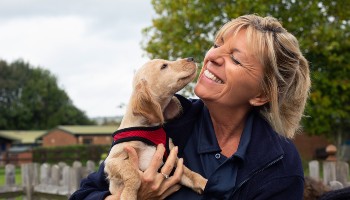 We now have 14,900 volunteers across our national society and branch network. While, through the pandemic, we also recruited 3,200 'microvolunteers' who collectively completed over 7,000 tasks!
Tasks include campaigning, writing to MPs, conducting research, photography work, online testing and sharing important messages on social media. Our wonderful volunteers have been active throughout the pandemic and we wouldn't have had half as much to celebrate without them!
Read more: What's it like to be a communications volunteer at the RSPCA?
7. The number of UK lab animals experiencing 'severe' suffering continues to fall
Thanks to a ground-breaking initiative by our Animals in Science Department, the number of animals experiencing 'severe' suffering in 2019 was 51% less than in 2014. Our principal goal for lab animals is replacement with humane alternatives and we're making progress every day.
Read more: Wild animals used in vaccine tests: What's being done to help.
8. After 50 years, the UK is set to become the first European country to ban live animal exports
Here at the RSPCA, we've been campaigning to ban live animal exports for more than half a century. We're thrilled that the UK and Welsh Governments have announced a joint consultation into finally ending the suffering of farm animals shipped on gruelling journeys from England and Wales to the Continent. As well as wild animals being banned in circuses, we can now also celebrate the long-awaited news that we're set to become the first nations in Europe to ban live animal exports. Once again, thank you for fighting alongside us - and animals - for so many years!
9. Lucy's Law was introduced in England to protect puppies
The RSPCA has been campaigning against the cruel puppy trade for many years. During this time, we've worked with other welfare organisations and campaigners to bring about a ban on third party sales, which came in early in 2020 as Lucy's Law. While this is great news, we still need your help. Join our #ForPupsSake campaign to close loopholes.
Read more: How we're working together to ban puppy imports in the UK.
10. Horse microchipping will help fight the horse crisis
From October 2020, microchipping was made a legal requirement for all horses, ponies and donkeys in England. What does this mean? The new Central Equine Database will allow local authorities and police to track down the owners of abandoned horses. This is to make sure owners are penalised and the animals are given the care they deserve. It will also mean lost or stolen horses will be reunited with their owners more easily. We hope that this will be a huge help in ending the ongoing horse crisis.
11. The passing of the Agriculture Act will help protect the UK's farm animal welfare standards
One of the biggest achievements of 2020 has been the passing of the Agriculture Act as well as the important changes to the way animal welfare standards will be protected in future Free Trade Agreements. Although these changes can't guarantee a stop on potential issues such as lower welfare imports, they can be used to influence decisions such as stopping chlorine-washed chicken or hormone-treated beef. Having these measures in place puts us in a stronger position for future trade agreements by having a defining body to represent animal welfare.
12. We're inching closer to harsher sentencing for cases of animal cruelty in England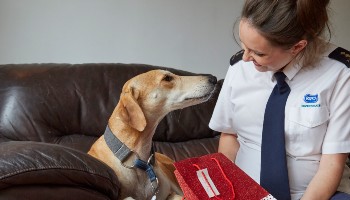 We're absolutely delighted that the second reading of the Bill on 23 October was successful, and will now proceed to committee stage for debate. We're inching closer to
tougher sentencing for cases of animal cruelty in England
as The Animal Welfare (Sentencing) Bill continues through the UK Parliament, and we're hoping the law will ultimately apply in Wales too. Hopefully, it won't be long before we can celebrate the maximum sentence for animal abusers being increased from just six months to five years.
13. Pup abandoned at Christmas becomes a police sniffer dog
Last year, four six-week-old cocker spaniel pups were found dumped in Surrey. The puppies were almost bald due to severe mange, had chronic eye and ear infections, and were extremely malnourished. After weeks of treatment at our animal centre, the puppies were rehomed to loving families. Unfortunately, poor Dustin struggled in his new home and was returned to the centre. In 2020, Dustin (now renamed Badger) joined the police dog training programme and went on to qualify as a sniffer dog. From abandoned pup to 'crime-fighting hero' - now there's something to celebrate!
Read more: From zero to hero: Dumped puppy becomes police sniffer dog.
14. China made moves towards ending dog meat markets
Also in 2020, the Chinese Government made a sudden announcement - that dogs are no longer considered livestock. China's agriculture ministry announced that "dogs have gone from being traditional domestic livestock to becoming 'specialised' as companion animals. Internationally, they are generally not considered to be livestock and it is not appropriate for them to be managed as livestock in China either."
Read more: Is this really the end of China's dog meat trade?
15. Our pets helped us through the coronavirus pandemic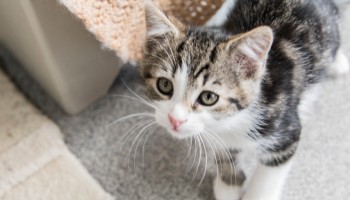 An RSPCA poll revealed that 45% of pet owners felt their pets have helped their mental health during lockdown. A separate study carried out by the Universities of Lincoln and York also found that having a pet helped people maintain better mental health during lockdown with more than 90% saying that their pet had helped them cope emotionally.
16. Nando's join the Better Chicken Commitment
In 2020, Nando's, Pizza Express, Pizza Hut and Greggs all signed up to the Better Chicken Commitment in the UK, meaning that a total of 200 companies worldwide have now committed to providing higher welfare chicken. Supermarkets continue to lag behind, but thanks to the support from our campaigners, Tesco has now taken a step closer to meeting the Better Chicken Commitment by introducing a line of RSPCA Assured chicken called 'Room to Roam.' We're hoping to see more big names join in 2021!
17. More councils have passed motions on firework restrictions
Around 62% of dogs show signs of distress during fireworks. This alone means thousands of animals are affected by unplanned and random fireworks each year. To see this changed, over 20,000 of you have taken action and emailed your local council to consider measures to reduce the stress caused to animals. 14 local authorities in England (most recently, Somerset and West Taunton) and six local authorities in Wales (most recently, Gwynedd) - have all taken action. Please keep campaigning so that more areas put animal welfare first! Join our #BangOutOfOrder campaign.
18. 5,497 wild animals were rehabilitated and released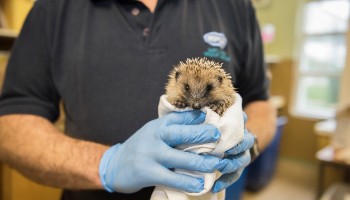 As well as rescuing and rehoming companion animals, our animal rescuers have also been busy caring for thousands of injured wildlife throughout 2020.
As of 30th November, 5,497 wild animals were rehabilitated and released back into the wild by our four RSPCA wildlife centres in 2020 - just in time to see in the new year!
19. Defra proposed a ban on primates as pets in England
Following years of campaigning, the cruel practice of keeping these intelligent, social animals in a domestic environment could finally come to an end. A UK Government consultation on plans to ban the keeping of primates as pets has been warmly welcomed by everyone here at the RSPCA. We're delighted that a ban on keeping primates as pets is now in sight - it truly is a fantastic Christmas present!
20. Over 3,000 animals were rehomed during the pandemic
Throughout 2020, despite the obstacles, we successfully rehomed 612 dogs, 1,812 cats, 336 rabbits and 271 horses through our national centres. That's a very happy Christmas for over 3,000 rescue animals! Oh, and these numbers only cover adoptions between 23 March 2020 and 7 December 2020 and from our national centres only, and so the total number will likely be much higher. That's over 3,000 reasons to celebrate 2020 in itself!
We couldn't have done it without you
See how 2020 compared to 2019 by reading last year's blog: 15 reasons for animal lovers to be happy about 2019.
We want to thank you for every click, every share and every action taken throughout the year. We couldn't do what we do without you. Merry Christmas to all of our supporters, we hope it's as jolly, special and safe as can possibly be.
Do stay in touch
For more good news stories, you can keep up to date with our animal updates by subscribing to our weekly newsletter.
---