null
Bang out of order: New government firework report is a step in the right direction
Bang out of order: New government firework report is a step in the right direction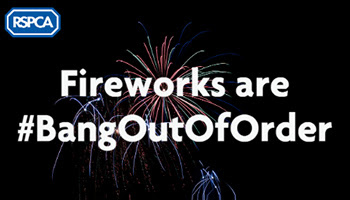 We welcome the Petitions Committee's report released today (Tuesday 5 November) following its inquiry into the impact of fireworks on humans and animals.
The report concludes that the existing law is inadequate and recommends that local authorities should be empowered to limit the number of displays in their areas through a system of permits. It also recommends that the incoming Government reviews noise levels of fireworks as well as fund an awareness campaign about the responsible use of fireworks.
More can be done for animals
We welcome this report but believe it could go further. We would like to see the public sale and use of fireworks limited to being closer to four specific celebration and festival dates (November 5, December 31, Chinese New Year and Diwali).
We also recommend noise restrictions on the maximum level of decibels fireworks available to the public can reach and that public fireworks displays should be licensed and advertised in advance.
Our figures show hundreds of calls from concerned animal lovers each year. Calls showing concern from animals including alpacas and even an African grey parrot - as well as dogs and horses.
Last year we received 411 calls about fireworks
Since 2014, we've received 2,285 calls about fireworks, with 411 last year alone.
Our government relations manager, Claire McParland, said:
We see the impact of fireworks on animals every year and we know there's strong public feeling about the use of fireworks, with more than 400,000 people signing petitions to restrict their use in recent years.
We're urging the government to act on this strength of feeling - which would support owners to help their animals cope at this time of year.
There's current legislation in place but we believe the Fireworks Act 2003 and the Fireworks Regulations 2004 don't go far enough.
The public can help by reading our advice and signing our petition as well as by and writing to their local council to request restrictions on fireworks at a local level.
62 percent of dog owners said their animal showed signs of distress
Our survey carried out this month found that 62 percent of dog owners said their animal showed signs of distress during the fireworks season, and 54 percent of cat owners also reported their animals were showing signs of distress. This means potentially thousands of animals' lives are made a misery by fireworks every year. Of all people polled, 76 percent agreed with our policy that fireworks should be restricted to traditional dates. While 85 percent said they thought public firework displays should be licensed and advertised before taking place.
Sadly, it's not just cats and dogs and other household pets that are affected by fireworks. Horses and farm animals can easily be frightened by loud noises and sudden flashes of bright light, which can startle them and cause them to injure themselves on fencing, equipment or, in the case of stabled or housed animals, on fixtures and fittings within their enclosures. Wildlife can also be burned after making their home in bonfires so people should always check the pile for animals before lighting them.
Dr Mark Kennedy, our equine specialist, said:
Our advice would be to check for any firework displays planned locally and ask organisers to site fireworks well away from your horse and aimed in the opposite direction. If your horse is staying in their field, check the fencing is secure and that there are no dangerous objects they could collide with if startled. If stabled, ensure hay nets are secure so your horse can't get caught up. You should stay with your horse if you know fireworks are going to be set off, but do be aware of your own safety - a startled horse can be dangerous.
Although it's possible for vets to manage firework phobias in some species, such as dogs, we believe that if animal owners knew when to expect fireworks, it would help them to prepare their animals so that they would be better able to cope.
This year, we've contributed evidence to an inquiry set up by the UK Parliament's Petitions Committee to look into fireworks as a result of public feeling. We have also met with the British Fireworks Association, as well as various organisations at a local level including Rotary clubs to spread the message that fireworks cause stress to animals.
For more information and resources about how to reduce stress in animals during fireworks season please read our fireworks advice. visit our website: www.rspca.org.uk/fireworks
Case Study: Spike
Rose Bunker adopted her dog Spike, a Staffy/Lab cross from our Brighton centre when he was three months old, in 2008. Sadly, he's been terrified of fireworks all his life. Rose said:
Spike has always been terrified of loud noises, especially coming from overhead. We wonder whether his background may have contributed to his nervous nature as he trembles at the least little rumble of thunder, and even at the noise of rain against the windows. He's reduced to a quivering wreck by the annual firework-fest that always seems, here in Brighton, to start midway through October and go on until mid-November.
The bangs, pops and whistles send him scrabbling for a place to hide, then on to find another place, he's up and down from sofa to floor and room to room, he can't settle and he trembles, pants and salivates for up to two hours after the fireworks have stopped.
He has a thundershirt and we have a diffuser we put on the extractor fan in the bathroom to try and mask the noise, but nothing completely takes away the terror, it just dampens it a little. He gets into such a state that every year we fear he will have a heart attack.
Now that he's elderly and riddled with arthritis he needs much more rest, and last November after three bad evenings in a row he seemed to lose the use of his back legs temporarily - we took him to the vet who said it was because he's been overusing them, he was unable to settle and was prescribed strong painkillers. He's very stiff and slow now and on a daily dose of painkiller, and we are so dreading this November.
We live on the outskirts of Brighton close to woods teeming with wildlife and also to two farms who graze their cattle on the Downs above our village. I worry about all these animals at fireworks time - but especially about our dear Spike.
Case Study: Maggie
Lee Davies lives in Portsmouth and has a ten year old border terrier called Maggie. He said:
Here in Portsmouth the firework season starts two weeks before the 5th November and continues for about two weeks after. My dog Maggie is absolutely terrified of fireworks and becomes a nervous wreck as soon as they start. She trembles, she pants, she becomes restless and she urinates in the house - something that she never does at any other time.
Seeing Maggie in such a state is distressing for the whole family and we feel it's unfair that she has to suffer like this every year.
Lee has tried herbal remedies for Maggie as well as plugins and has also visited his vets but feels she still suffers each year.
How you can help
Sign our petition today to help keep animals safe this fireworks season.