Baking the most of it!
Lucy Cooper - dog owner, singer-songwriter and one of our press officers - shares her recipe for homemade treats your precious pooch will love.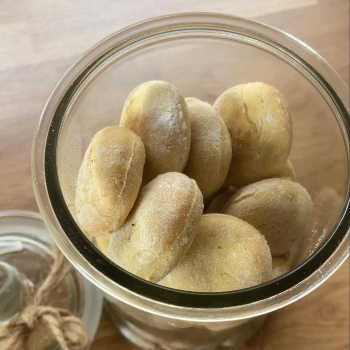 With a fair bit of extra time on my hands during lockdown, and in search of ways to keep my fur-baby Fiji entertained, I decided to raid my cupboards and see if I could rustle her up some tasty, homemade treats.
Due to the restrictions on leaving the house, Fiji isn't having the sort of walks she's used to every day, so I knew I'd need to make her something that was simple and not too overindulgent, to keep her waistline in check, but also something I could use to entertain her too.
Ingredients
I found a few basic ingredients and rustled up these tasty treats:
100g plain flour
1tbs smooth natural peanut butter (with no sweeteners or additives i.e. xylitol or chocolate)
1 free-range egg (from my own rescue hens!)
A few tsps warm water.
Method
I cracked the egg into a mug and added the peanut butter, whisking with a fork until they combined.
I then carefully added the flour into the wet mix and stirred, adding a little bit of water when it was looking a little dry.
Once the texture was looking much like bread dough, I tipped it onto the worktop with a little flour and rolled with a rolling pin to about 1/4 inch thick.
To make the shape of the treats, I used a shot glass to stamp out circles, as Fiji is a small breed so I knew this would suit her little gnashers. You could use a cookie cutter or a larger glass to form the right size and shape treats to suit your dog.
I sprinkled some ground flax seeds on top of the treats before baking as I had some in the cupboard, but this isn't essential.
I popped the dough shapes onto a lined baking tray and baked in the oven for 30 mins at 180 C/160 C fan/350 F/gas mark 4.
Like Scooby for Scooby snacks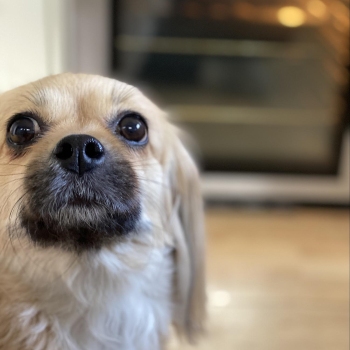 Fiji must have known these were for her, as she sat waiting by the oven and looking at me longingly. Once they were out of the oven and completely cooled, it was the moment of truth.
Did she like them? Of course she did!
Fiji absolutely loved these treats. She happily took one from me (after sitting like a good girl) and trotted off to her bed to devour it undisturbed.
I've really enjoyed using the biscuits to play scent games with her too, such as crumbling them into her Kong, hiding them under a cushion or on a low shelf and asking her to 'find it', as well as chopping a biscuit into quarters and rolling them up inside a towel for her to sniff out, unravel and scoff.
Who knew simple ingredients could make something so yummy for a dog? And they kept me entertained too!