Apprenticeship fund helps animal lover fulfil lifelong ambition
We're announcing an exciting expansion to our apprenticeship programme thanks to a £500,000 levy transfer from NatWest.
The apprenticeship levy transfer has enabled our team to upskill even more employees as well as recruit new apprentices across the board from animal care workers, vets, animal collection officers and fundraisers.
To mark National Apprenticeship Week (3-7 February) we're shining a light on our apprenticeship expansion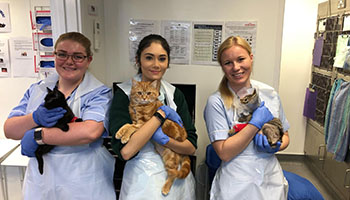 Riana Crichton, 25, worked as a hospital assistant at our Putney Animal Hospital in London before the opportunity to start an apprenticeship and expand her knowledge arose.
She began the veterinary nurse apprenticeship in September at the City and Islington College, London, which has seen her help change the lives of many animals including an injured Jack Russell called Rosie. Riana said:
I wanted to increase my skills and knowledge and open up more job opportunities by doing the apprenticeship. It was my lifelong ambition to work with animals and it's a very hands-on job - so it's perfect.
At the end of the three-year training, Riana will receive the RCVS accredited licence to practice veterinary nursing at Level 3 alongside her apprenticeship.
Vet nurse apprentice Riana always wanted to work with animals
Riana's role entails looking after animals on the hospital ward, flagging up concerns to vets, administering medication, placing IV catheters and taking bloods, monitoring anaesthetic and preparing animals for surgery, as well as giving owners information on after-care and a whole host of other duties. Riana added:
¿I always wanted to work with animals. I've grown up around animals and couldn't imagine my life without them. Ever since school, I knew where my career was headed when I did work experience at a local vets.
Riana has three cats of her own at home. They are named Mummy Cat, 11, Baby Cat, nine, and Lenny, four. Lenny was a rescue from our Putney centre who was found living in a feral cat colony at four months old. He was found with a dislocated elbow, a large wound to his side which needed stitches, a broken tail tip, and a broken leg. Thankfully, he recovered in our car and is now a happy and sweet natured cat.
Riana explained that the most rewarding part of her job is seeing the amazing transformations of the animals in care. Jack Russell Rosie was signed over to our care in December after another dog in the house attacked her leaving her with a severe abdominal wound. Riana said.
It took a long time to heal as the wound was so big but she has recovered really well. We thought she might have behavioural problems after what she has been through but she is the sweetest dog. It's amazing to see animals in such poor conditions come back to life as it were, it's so satisfying seeing them get better and it gives you an amazing sense of achievement when they go on to be rehomed and have a better life.
Riana, who lives in Morden, explained that throughout the apprenticeship she has been supported in her personal development and hopes to continue a long career with us in the future.
Our work with animals requires a huge range of skills and specialisms
Chris Wainwright, our deputy chief executive, said:
We're incredibly excited to be able to offer these personal development opportunities to our valued employees, thanks to the NatWest Apprenticeship Levy.

In our mission to improve the lives of all animals, we rescue, rehabilitate, rehome, educate, prosecute and advocate. This work requires a huge range of skills and specialisms and we're looking forward to building on an already talented workforce to continue improving lives for animals across England and Wales.
Craig Neill, Global Head of Talent Acquisition at NatWest, said:
At NatWest, we know how rewarding a thriving apprenticeship programme can be for both an organisation and those who participate. Apprenticeship programmes help people to access new careers they may have never considered whilst building skills for the future, helping both people and industry.

I am delighted that this funding will be redirected to the RSPCA and will allow young people to develop the new skills and capabilities they need to continue the brilliant work the RSPCA do across the charity sector.
Get involved
Find out more about our apprenticeships.
---