Animals with horrendous hair hope to find fur-ever homes
From untamable frizz to regrettable haircuts, these animals need a helping hand to banish their bad barnets!
We've all been there; waking up to hair sticking up every which way and fringe just not laying flat! If any of this sounds familiar then spare a thought for these animals who know exactly how it feels to have a bad hair day.
Clyde
Three-year-old Bearded Collie crossbreed, Clyde, is our first casualty of the bad hair day. Check out that wayward hair!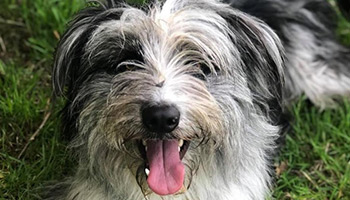 Clyde is a lovely boy, but has had a tough start and is very nervous. You'll need to let him come around at his own pace, and you'll be rewarded with a loyal and affectionate dog. He isn't used to going for walks, but is enjoying them - he is learning to walk on a lead but is strong and erratic at times. He gets worried by strangers walking past as well as traffic, so needs to walk in quiet spaces as he grows in confidence. He is improving and could continue to do so.
Clyde is super-playful and will happily amuse himself with his tennis balls and raggy toy. He is just learning the joy of a game of fetch with a friend! He has lived with dogs before, and might enjoy living with a nice calm dog to help with his confidence.
Clyde is available at Bath Dogs & Cats Home.
Mufasa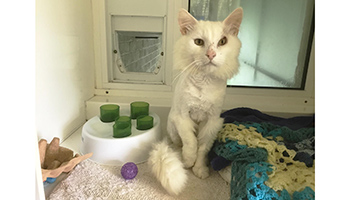 Don't laugh! Poor Mufasa is sporting a not-so-fashionable lion cut shave. Twelve-year-old Mufasa has spent most of his life as a stray and as a result, came to our South Godstone centre badly matted and covered in flea dirt. Mufasa's coat can now have a fresh start and he'll be #HairGoals in no time!
Mufasa is very affectionate once he is bonded with you but can be nervous of strangers and so he is looking for a household with family members aged over 16. He will need help learning that regular grooming will help him achieve a soft and glossy coat to keep him feeling comfortable. Say 'hakuna matata' to bad hair days! Mufasa is available at RSPCA South Godstone Animal Centre.
Rosemary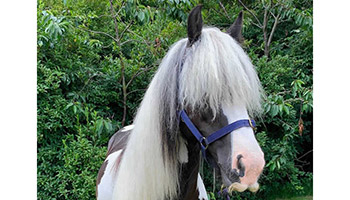 Remember that time when you decided to try a front fringe? But when it was finally time to bin the bangs you realised there was no graceful way of growing them out! I'm sure you can sympathise with twelve-year-old lightweight cob Rosemary who is currently in that awkward hair stage. On the bright side, her forelock acts as a wonderful anti-fly fringe!
Rosemary has a very sweet nature and leads to and from the field very nicely. She is a great companion pony and could potentially be put into work in her new home given the right training by an experienced person. If you are interested in rehoming Rosemary please contact our equine rehoming officer on 0300 123 8877.
Bournville & Aero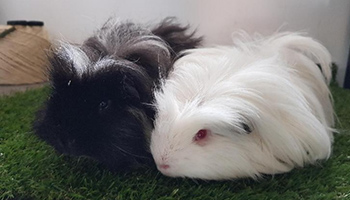 One-year-old guinea pig pair Bournville & Aero are sporting flyaway 'salt and pepper' tresses that no comb could tame! The two castrated males have a 'bromance' going on and would like to be rehomed together. These friendly boys love playing out on the grass in a secure run. Bournville & Aero are available at RSPCA Stubbington Ark.
Florence and Zebedee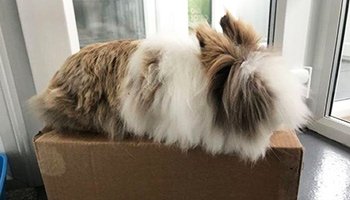 Four-year-old Florence and Zebedee are giving us serious 'Beatles' vibes with these mop-top hairstyles. Under all that fur are two lovely little rabbits who are very fond of one another and are looking for a home together. They're still finding their feet at the branch but given some patience, they will soon come out of their shell and will make a welcome addition to your family. Florence and Zebedee are available at RSPCA Worcester & Mid-Worcestershire Branch.
Not found your perfect match yet? Visit Find a Pet today to meet yours.