Hundreds more unwanted kittens could be born during the Coronavirus lockdown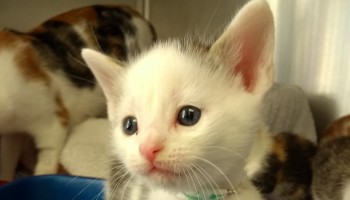 Leading animal welfare charities are urging owners of unneutered cats to help prevent a lockdown kitten crisis.
Every year animal welfare charities see an influx of kittens coming into their care between the months of May and September, known as 'kitten season'.
Current cat overpopulation could get worse with lockdown
The UK has been facing a cat overpopulation crisis for many years but with lockdown rules making access to neutering more difficult the plight of unwanted kittens is set to worsen. Leading animal welfare charities have teamed up to provide advice for cat owners to prevent their cats from becoming pregnant.
Alice Potter, our cat welfare expert, said:
Whilst many parts of our daily lives have changed or been put on hold at the moment, the kitten season will not stop so it's important that cat owners are prepared. Cats aren't fussy about who they mate with and any related cats like brothers and sisters will mate so if they haven't been done, it's important to keep them apart.
If you think there is a chance your female cat could have mated, call your vet as soon as possible.
Keep unneutered cats indoors
Jane Clements, head of neutering at Cats Protection, said:
While access to veterinary care is limited we also strongly recommend keeping unneutered cats indoors. Any cat pregnancy can be risky and female cats can conceive from four months of age. We do recognise however that keeping an outdoor cat inside can be stressful and frustrating so those seeking help can visit our website, as well as other animal welfare charity websites, for tips on how to keep their cat happy and active.
If keeping cats indoors, it's important to make sure they are happy and have plenty of enrichment with lots of play time, toys and puzzle feeders.
The reduction in neutering this year could cause problems
There are an estimated 10.9 million pet cats in the UK according to the 2019 PDSA PAW Report which also reports that 92% of owned cats are neutered. It's difficult to predict how many more kittens may be born due to the lockdown restrictions, however last year six of the leading cat welfare charities neutered a total of 216,261 cats.
This figure helps to demonstrate the large number of cats neutered by charities each year and a reduction in these numbers during the Covid-19 crisis could lead to more unplanned and unwanted litters being born.
Caroline Allen, our chief vet, said:
Understandably vets are prioritising emergencies in the face of Covid-19 and restricting other procedures. Vets are advised to perform neutering only where it is essential for health and welfare during the current period. It is important to follow your vet's guidance and understand if they cannot neuter your pet at this time, you will need to take other steps to avoid unwanted pregnancy. If you have a male/female pair or really can't keep your cat inside, do call your vet to discuss options.
Battersea's Head Vet, Shaun Opperman added:
We strongly recommend that owners get their cats neutered at the earliest opportunity. Not only does this prevent any unwanted litters and an increase in the ever-growing cat population, it also benefits the health and wellbeing of the cat.
At rescues like Battersea, we regularly see litters of kittens and pregnant cats being brought to us as a result of owners not having the means to cope with their pet's unexpected pregnancy, and this could be avoided in the future if more people have their cats neutered.
The first litters of kitten season
RSPCA
We rescued a mother cat and her three kittens on Monday, 20 April after a member of the public found them abandoned in a carrier bag in Salford. Luella and her kittens, who are about 10 days old, are now being cared for by our Manchester and Salford branch.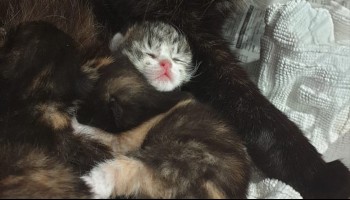 A young mum cat Meredith and her four kittens were abandoned in a cardboard box in Hayes in West London on 15 April. They were taken to our Putney Animal Hospital where they continue to be cared for. The kittens, who were around three weeks old when they first came into our care, are now doing well.
Cats Protection
Three tiny kittens were rescued from a garden in Cornwall in mid April when they were three days old. They were abandoned by their feral mother after she was unintentionally disturbed by a member of the public who walked into the garden where the young family was sheltering just days after the kittens' birth. They're now being cared for by Cats Protection's Cornwall Adoption Centre.
Battersea
A heavily pregnant young cat called Lola was brought to Battersea's Old Windsor centre last month after she repeatedly tried to gain access to an elderly gentleman's home. No owner was traced and shortly after, the stray gave birth to five kittens while staying in a foster home. It was a somewhat traumatic birth and her carers had to step in to revive one of the kittens. Luckily, mum and her litter are now all doing well and continue to be looked after by foster carers.
Many charities are struggling during the Coronavirus pandemic and we're no different. If you can support us, please donate online to help our staff rescuing, rehabilitating and rehoming animals.
---