Adoptober: We're looking to rehome unusual furless 'skinny pigs'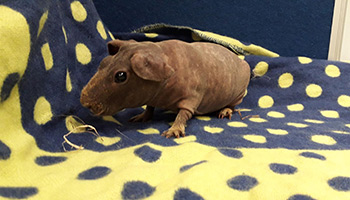 Ten skinny pigs, whose owners will need to apply suncream to keep their bald skin safe outside, have been signed over into our care.
This October as part of our 'Adoptober' campaign, we're urging animal lovers to think twice about buying a small furry as a 'starter pet' for their children after historically rescuing 340 of them a month.
Across England and Wales last year, we rescued 4,081 rabbits and other small furries from cases of cruelty, neglect, and abandonment.
Skinny pigs are a type of Guinea pig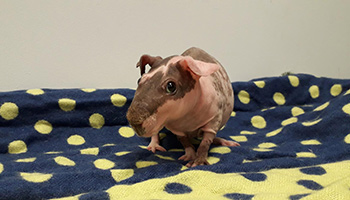 We've taken ten unusual 'skinny pigs' into our care - and we're now looking for loving owners to come forward.
Skinny pigs are a type of Guinea pig which has been bred to have no fur, in a similar way to Sphynx cats.
They were signed over to our care from a house where their previous owner was struggling to cope.
Fortunately, two of the ten, have already found loving homes. Three males named Aardvark, Walrus and Warthog (all pictured) - are now looking for homes. Five females will also be looking for homes once they've completed further health checks to ensure that they're not pregnant.
The skinny pigs are currently being looked after by our Middlesex branch, having been initially taken to our Putney hospital in London for their checks.
The males are now neutered and ready to find their loving forever homes.
Our pet welfare expert, Dr Jane Tyson, said:
Skinny pigs are a type of guinea pig which has been bred to look a certain way.
Whilst they can look cute and funny to some people, this breeding has actually led to them having very sensitive skin in the same way a Sphynx cat does.
This means that if they are kept outside they will need to be kept away from direct sunlight and will have to have pet-safe sun cream applied to them to keep them happy and healthy. Without having fur to keep them warm, they also readily feel the cold so extra care needs to be taken in colder weather to help them stay warm.
They can also scratch their skin easily so bedding must be soft and it's a good idea to make sure their nails are kept in good condition to make sure they don't injure themselves.
Although Guinea pigs are very misunderstood pets in some ways (for example, some people wrongly believe that they can be kept with rabbits) - they are also very rewarding and characterful creatures.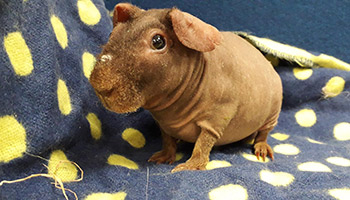 Cheryl O'Keeffe, our animal welfare administrator at Middlesex, said:
"We have absolutely fallen in love with the skinny pigs here - all the staff love spending time with them as they are real characters. They aren't everyone's cup of tea but I expect they will be rehomed quickly to the right family.
If you think you can offer a loving forever home, you can start your search today at Find a Pet.