Abandoned kitten's eyesight is on the road to recovery thanks to rescue
A five-week-old kitten could have lost her eyesight due to cat flu.
Our animal collection officer (ACO) rescued a kitten with severe eye problems after a member of the public found another - sadly already deceased - kitten on their lawn.
ACO Louis Horton, found the poorly kitten hiding behind a bush in a garden, in Slough, on Friday 16 August. It's presumed the kitten had been abandoned by her mother because she was so ill. Louis said:
Sadly one kitten had already passed away. The other was very congested and her eyes were extremely swollen and sore. I immediately took her to an emergency vet for medical treatment before bringing her home for overnight care.
Cat flu can pose a dangerous threat to cats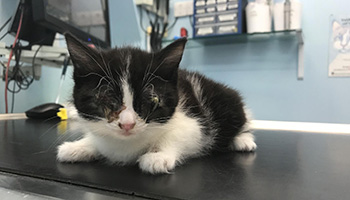 Vets said the kitten, now named Lillith had bilateral corneal scarring caused by severe cat flu and it's likely she had limited eyesight as a result. If left untreated, cat flu can pose a dangerous threat to cats, especially young kittens, as their immune system is much weaker.
The vets prescribed Lillith with two types of eye drops and a course of antibiotics, which she needed around the clock if she was to have any chance of restoring her eyesight.
Lillith is currently in foster care
Lillith was then taken to our South Godstone where she was fostered by animal care assistant Rebekah Smith. Rebekah said:
It was quite upsetting seeing Lillith at first, but it was good to know she was now safe and getting the care she needed.
I've fostered her for over a month now and although it has been hard work and there were some complications with her health, she's making an amazing recovery.
Lillith was quite lethargic and shy at first but since her health has begun to improve, she's had loads of energy. She loves to pounce and chase toys indicating her sight is improving.
Although Lillith is still receiving some medical treatment, the vets are happy with her progress. Lillith is not yet ready to be adopted, but we always have lots of other cats looking for homes.
Caring for cats and kittens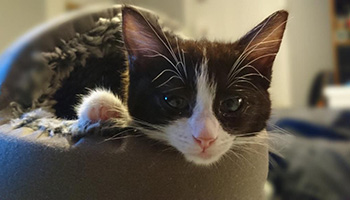 Ensuring your cat stays in good health is vital to their welfare and happiness. Find out more about keeping your cat up to date on their vaccinations and protecting them from diseases such as cat flu.
If you're considering bringing a cat or kitten into your home, please visit Find a Pet today.
---