Man deliberately breaks his dogs back
A man who fractured his dog's spine and left him with extensive bruising was disqualified from keeping animals for life.
The defendant claimed he inflicted the injuries on his lurcher type dog called Archie after he had urinated in the house. The man called a local veterinary hospital asking if Archie could be put down, but they persuaded him to sign the dog over to an animal charity.
Injuries all over the dog's body
The private veterinary team who examined Archie were shocked and upset by the state he was in. The man said to a nurse he beat Archie when he tried to rub the dog's nose in its urine and the dog went to bite him.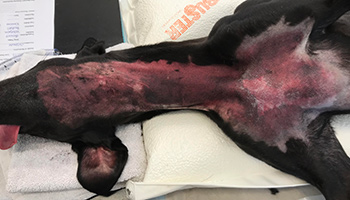 Archie was subdued. He was stressed, reluctant to interact, showed the whites of his eyes and his breathing was fast. There was a marked swelling to the left of his face and neck, his left eye, left jaw and skull base, extending down his spine and the surrounding muscle of his belly. There was a haemorrhage in his left eye, his right ear was bruised and blood was visible in his ear canal. Archie yelped on examination.
Strong painkillers and anti-inflammatories were administered before Archie settled in his kennel. Later Archie's hair was clipped which revealed severe bruising, there was also blood in his urine and an x-ray revealed he had a fractured spine.
The injuries Archie had were potentially life-threatening and he continued to have swelling and pain in the weeks after treatment.
A head nurse said:
I've never seen a dog with that much bruising, in that much pain, caused by a human before, never and I have been working there for 15 years.
No signs of aggression despite defendants claims
When interviewed the man believed his actions were justified. He claimed Archie had snapped at him and had lunged for his face and neck and that it had not been the first time. Yet whilst nervous, stressed and in significant pain, Archie had not displayed any aggressive tendencies towards the veterinary staff, or any other animals. In fact, the vet said he was a sweet-natured dog.
The man showed our investigating inspector superficial injuries, claiming they occurred during the attack. They were light scratches and there was only one minor area of broken skin to a finger.
Archie continued with his recovery with a local animal charity. Here he was assessed by a behavioural expert, who found he didn't present any more risk than any other pet dog.
A prison sentence was a necessary
At court, the man pleaded guilty to causing unnecessary suffering to Archie and failing to meet his needs contrary to the Animal Welfare Act 2006. In court, an expert concluded that the man had inflicted prolonged fierce strong attacks to Archie.
The District Judge felt that the offences were so serious that only custody was appropriate. She remarked it was a deliberate, sustained and unprovoked attack on a dog in his care and referred to the significant injuries including the compound fracture, ruptured ear canal and tissue damage.
In addition to the lifetime disqualification, he was sentenced to 18 weeks' immediate imprisonment and ordered to pay £500 costs.
Despite his injuries, Archie made a good recovery and has since found a loving home.