Frightened sugar gliders found dumped in London
03.08.18
The tiny possums are so frightened they scream when anyone goes near them.
Sugar gliders found dumped in London
We're carrying out an investigation after two tiny sugar gliders were found dumped in north-east London.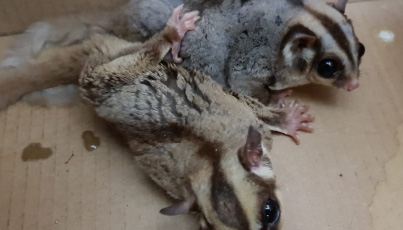 We were first contacted by a veterinary clinic in Leyton on Tuesday lunchtime (24 July) after a member of the public handed in two sugar gliders (tiny possums who can glide through the air like flying squirrels).
Inspector Kate Ford attended the centre, in High Road, to collect the little marsupials. In her words:
A man came into the vets at lunchtime and handed over a box with the two sugar gliders inside. He told staff he'd found them dumped in a little animal carrier, inside a wooden nest box by some bins.

Vets believe them to be one male and one female however they didn't thoroughly check the small animals as they were so frightened, they would scream whenever anyone goes near them.

Inspector Ford then took the sugar gliders - each around the same size as a small hamster - to a specialist exotics facility for emergency care.
Sugergliders do not make suitable pets
According to our exotics senior scientific officer Nicola White:
Sugar gliders look incredibly cute and people might be tempted to buy them as pets but they need very specialist care to look after them properly.

For this reason, we do not believe that sugar gliders are suitable to be kept as pets, as we do not believe that it would be possible to adequately meet their needs in a typical household environment.

These are nocturnal animals who need to be allowed to sleep during the day and to be awake and active at night. They must be fed an appropriate diet for the species.

They are arboreal, meaning they spend their lives up in the trees and can glide for 50m or more, which would be extremely difficult to provide for in a typical household.

Sugar gliders - native to Australia - are social animals and should never be kept on their own.
Our urge to the public
We do'nt agree with keeping exotic animals as pets. This duo is the latest taken in by our team in a string of unusual call-outs to exotic, wild animals including emus, raccoon dogs, primates and even caiman (related to alligators and crocodiles).
We are urging the public not to be tempted to buy exotic animals online, despite them being readily available.
You can keep up to date with all our news, by signing up to our newsletter today.