Top tips to keep your pets cool this summer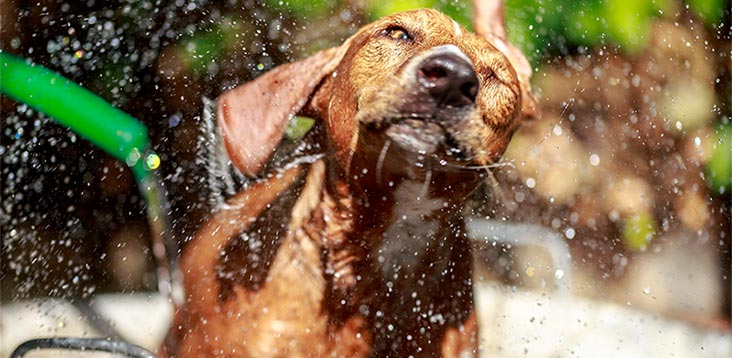 We get lots of enquiries about the welfare of animals over the summer months, particularly when it's very hot.
Help your pets stay cool when the weather's hot
Never leave animals in hot cars, conservatories, outbuildings or caravans, even if it's just for a short while. Temperatures can quickly rise to dangerously high levels.
Don't let your pet get sunburnt - use pet safe sun cream on exposed parts of their skin such as the tips of their ears and nose. If you're unsure of the right product, please ask your vet about a pet safe sun cream.
Ensure pets always have access to shade and fresh drinking water to help keep them cool.
Dogs may also appreciate a paddling pool to splash around in.
Don't shut your cat away - always check sheds, greenhouses and summerhouses before closing them up. Cats can find their way inside if they're looking for a cosy spot, but can get too hot or dehydrated if trapped.
Putting ice cubes into your cat or dog's water bowl is another fantastic idea.
We also recommend walking your pet in the morning or evening to avoid burning their paws on the pavement.
Learn more about how you and your pet can beat the heat
A dog goes for a dip
Take a look at one our dogs making a splash in the summer sun.
Hotter than the Sahara in just 30 minutes
How does it feel to be a dog in a car on a scorching hot day? See how RSPCA Inspector Anthony Joynes coped when he locked himself in his sweltering van.
---