A moment with Maureen - a kind animal fosterer
Maureen has opened her door to more than 160 cats and kittens over the years. By giving animals a temporary home, she's helping to free up space in our centres - so we can rescue more animals who need our help. Learn more about Maureen's amazing story in our heart-warming video.
FAQs about fostering
Q. Why is fostering so important?
A. Whenever someone fosters one animal, they're also freeing up valuable space in an RSPCA centre, so that we can care for one more. It's a win-win situation!
Q. How is fostering different from rehoming?
A. With fostering, the RSPCA remains the legal owner or custodian of the animal. Fostering is always a temporary arrangement and can last from a few days up to two years.
Q. What kind of animals can I foster?
A. Most of the animals who need foster homes are dogs, puppies, cats and kittens, but we also need fosterers for other animals like rabbits, domestic rodents and even horses.
Q. What sort of support do fosterers get?
A. Every fosterer gets an RSPCA coordinator to support them while they're fostering one of our animals. We also provide food, litter, veterinary care, basic bedding and basic toys.
Q. Do I need a garden?
A. No, you don't. Some animals need to be kept indoors - perhaps because of their species, or because they're ill - so we always need fosterers who can keep an animal inside.
Q. What if I want to give a foster animal a forever home?
A. It wouldn't be the first time! Adopting an animal is obviously more of a commitment than fostering an animal, but if you've been approved as a fosterer, you will generally be approved as an adopter - unless the animal in question is returned to their owner or has already been promised to someone else.
Be a vital volunteer
If you have a little time, we have lots of great volunteering roles, including fostering. Meet like minded people who share the same enthusiasm for animal welfare.
Sponsor dog kennels, cat pods or horse stables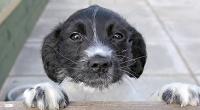 Help us give more rescue animals a safe place to stay, from just £10 a month. As a fantastic sponsor you'll receive a welcome pack, regular updates, free gifts and discounts.
---