Life as an RSPCA volunteer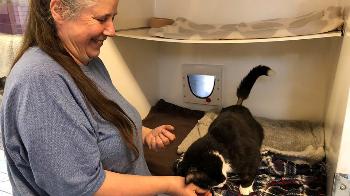 We have dedicated volunteers working across the country at our animal centres and branches...
This #RSPCAWeek we're looking to our volunteers and the amazing work that they do for us!
Bristol Animal Rescue Centre
Sheena, volunteer of 15 years
In the words of Marcella Pinto, Communications Officer for Bristol Animal Rescue Centre:
Sheena volunteers four days a week, every week, to help us sort and organise all of our donations - she's invaluable and has been working with us for fifteen years now. Her incredible work means that staff can focus solely on the care of the animals while she handles the donations.
In Sheena's words:
I sort and organise all of the food donations that are sent in by kind members of the public - I make sure that everything is organised in date order and easy for the staff team to find.

I absolutely love working here and helping out all of the staff who are so dedicated to the animals. I feel like I'm doing a small bit to help.
Lancashire East Branch
Brian, volunteer handyman of 17 years
In the words of Jeanette Ainscough, Centre Manager for RSPCA Lancashire East Branch:
Brian has been volunteering at the animal centre since 2000. He started as a dog walker but we quickly realised he had lots of other skills too and he soon became our volunteer handyman. Brian gives up two mornings a week to come and fix the unfixable. We have a saying that if Brian can't fix it, then it can't be fixed!

Brian has a real love of animals and he even made specially adapted splints for a lurcher he adopted called Dotty, who was born with deformed legs. They helped her so much that the vet even enlisted his help for other patients requiring splints. When he sadly lost Dotty, he adopted another lurcher from us - Lexi, who is spoiled rotten and living the life of Riley.

Brian is very much a huge part of our team here at the Lancashire East Branch and we would be lost without him.
Birmingham Animal Centre
Phil, home visitor and dog walker. Recently did his 1000th visit!
In Phil's words:
I have no idea how many dogs I must have walked, but as I go every week, it must run into the thousands, and hundreds of miles - and I love it even more today than when I started! I also help out as a Home Visitor, and I recently did my 1000th pre-adoption home visit!

Over the 18 years, I have adopted three dogs. The current resident is lurcher cross, Trigger - he was getting on for 15 at the time and most people don't want older dogs so I took him on - one of the best decisions I have ever made.

Volunteering and helping the animals gives me a lot of satisfaction and I've met a lot of great people and wonderful animals over the years. I'm very proud to be associated with the RSPCA.
Birmingham Animal Centre
Laura Halsall, cat cuddler. Spent last year making 100 individual stockings for our cats at Christmas!
In Laura's words:
Spurred on by a colleague that volunteers, last June I began volunteering at my local RSPCA centre on a weekend. In short, the impact of volunteering in an area I'm passionate about has been nothing short of life transforming. I spend my Saturdays now working with the staff to socialise the cats and kittens they look after in the centre along with a bucketful of cleaning thrown in for good measure.

The time I spend on a Saturday often fills me with a sense of joy and relaxation that nourishes my soul. On a Saturday morning, I often go in tired, feeling stressed about the ever growing to do list that whirls around my mind and a few hours later I emerge often covered in cat hair but with a far more positive outlook on life and a sense of wellbeing that I've struggled to replicate elsewhere. There's a mystery to me in giving something away and yet receiving something you didn't expect tenfold back.
---