Perfect picnics for pooches
Summer is here and from 17 June to 25 June 2023 it's National Picnic Week! I'm sure you can guess how we're celebrating...
Our favourite picnic spots are the beach, the forest, a National Trust site, a local park or the back garden. In fact, we've even been known to have indoor picnics (some rules are made to be broken!)
To ensure a smooth-running picnic, we've got all the essentials you need to keep everyone safe, fed, healthy and happy! Picnics are easy to organise and fun for everyone (pets included!)
Picnic checklist
A cooler to protect your food and drink from spoiling
A bottle opener
Everyone's favourite condiments
Hand sanitiser, wipes/tissues to clean up messy faces and fingers
The all-important picnic blanket!
A basic first aid kit to be safe (plasters, antibacterial wipes, bite and sting relief)
A high-factor suncream
A rubbish bag
Picnic basket
Food and drink! Including big bottles of water
Games (for example, frisbees, footballs, badminton)
Perfect picnic foods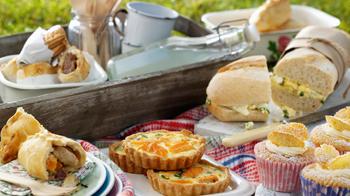 From scotch eggs to salads and quiches, the picnic style is ready-made and eaten cold! If there's a party group coming together, why not suggest that everyone brings something different? You can never have too much choice! Stuck for picnic basket ideas? We have a whole list of imaginative picnic recipe ideas.
Remember, reusable cups, plates and cutlery will keep you rubbish levels low, help the environment and come in use on your next picnic! Using resealable containers and keeping food items sealed between snacking will keep you safe from bugs!
Of course, remember to leave your picnic area clean and tidy when you are all pic-nic'd out. Even one piece of litter can injure unsuspecting wildlife, and by cleaning up your rubbish, unused food and dog mess you are keeping animal's homes tidy and keeping the area a great spot for picnics to come!
Weather-proofing your picnic
Check the weather forceast and pack for all weather! Large umbrellas can be used as parasols, and always remember to pack plenty of water to keep everyone hydrates including any dogs that may be joining your picnic. Oh, and try to look for a picnic area which offers both sun and shade!
Making plans for your pooch
If you're picnicking at a park or other public site, check that dogs are welcome and if they need to be kept on a lead or not. You can then add a water bowl, some treats, a toy two and dog-friendly sun cream onto your packing list! Oh, and poo bags!
Planning picnic games
In between the snacking, toys and games are a fun addition to any picnic! As well as sports games, there are also equipment-free options such as charades, hide and seek, or tag.
DIY dog treats for your picnic
Banana and peanut butter dog treats are sure to keep pooches happy at your picnic!
You will need:
1 cup of whole wheat flour
1 cup of creamy peanut butter
1 cup of mashed banana
1 vegetable stock
You will need to:
Stir the ingredients until well combined (it should form a dough)
Next, flour your work surface
You can then roll out evenly with a rolling pin
Now cut out shapes with a cookie cutter
Finish by placing your treats on an ungreased baking tray and...
Bake for 18 minutes until golden brown!
Will you be planning a picnic this National Picnic Week? It sounds to us like the perfect excuse to get out in nature and lay under the sun (eating lots)!
For more ideas like this, why not subscribe to our newsletter?
---