7 ways nature can help keep us happy and healthy
Conservationist and RSPCA Vice President, Chris Packham, shares his wisdom on enjoying the world around us during lockdown.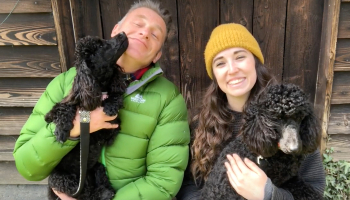 If you've been following some of the videos I've been making lately, you'll know how much of a solace - and a joy - nature has been bringing me.
Spending time in nature is something most of us value at the best of times. Now, more than ever, it's coming into its own, providing a cure for at least
some of the ills we're facing at the moment. Spring is erupting all about us: there are wild flowers, bulbs, blossoming trees. The dawn chorus is beginning to sound, birdsong is filling the air. Life might be very, very different from what we normally know, but nature is a constant and we can all use it to help us through.
Here are some of the ways I've been connecting with nature, wildlife and my pets to help keep me physically and mentally healthy, that you might like to try, too:
Take a walk. We may be on lockdown but we're allowed to exercise so don't miss that opportunity for some fresh air and green space. Of course, keeping a safe distance from others is paramount. That might mean getting up and out extra early but it'll be worth it. See how many signs of spring you can spot: I'm enjoying the celandines, wood anemones, snake's head fritillaries. If you're self-isolating or unwell, spending time in the garden or just looking out of a window is invaluable.
Take your dogs out. My lively, anarchic nine-month old poodles Sid and Nancy are keeping me active and putting a smile on my face. If you don't have a dog but are able to get out for your daily exercise, there might be older people in your neighbourhood who would appreciate some help with their companion animals. Call your neighbours or offer your services (safely) via community help groups. Ask if you can help walking the dog, letting the cat out, feeding their animals or stocking up on food.
Enjoy your pets. If you're stuck indoors, caring for companion animals is more important - and rewarding - than ever. The RSPCA has some good ideas on games, grooming and training to keep you busy. If you have kids, it's a great time to get them involved, teaching them more about animal welfare and kindness as you do. Studies have shown caring for pets is good for our mental health, and theirs. Me and the poodles can vouch for that.
Brush up on your bird skills. It doesn't matter if you're outside or watching from a window, there's such pleasure to be had from spotting, feeding, photographing our feathered friends. Now's the time to learn about identifying birds and birdsong. I've started The Self Isolating Bird Club on Twitter to bring us all together to do that.
Be imaginative with your extra time. If, like me, you've had work cancelled, or are unable to work in the same way, find the positives. There are lots of ways to enjoy wildlife, animals and nature while being creative I'm planning to do more painting. Perhaps you could try drawing, gardening, a bit of citizen science. Get online and share your passion for wildlife with like-minded friends.
Become an animal photographer. The RSPCA's Young Photographer Awards, for which I'm a judge, opens for entries at the start of May. That doesn't mean you have to wait until then to start taking pictures. If you're 18 or under, get to work on that portfolio. If you're not? Encourage the youngsters in your life to turn photographer and help them hone their wildlife or pet photography skills.
Help if you can. Finally, I know this is a time when we're all worried about work and money, but if you possibly can, please also remember charities like the RSPCA. Animals are still being abandoned and mistreated. And the RSPCA rescuers are key workers, still on the front line, still going to work despite huge difficulties in the face of Covid-19. Animals need our help, now more than ever, so please donate if you can.
---