The Feathers Inn, Stocksfield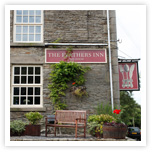 The Feathers Inn, a pub for more than 200 years and former drovers' inn, overlooks four north-east counties between Hadrian's Wall in the north and the stunning Derwent Valley.
Chef and hosts Rhian and Helen pride themselves on serving a local, seasonal menu and making the very best use of only the finest locally-sourced ingredients - with animal welfare at the very heart of what they do.
¿We've had a good year winning awards but we never expected any of them,¿ says Helen. ¿We are explicitly open and publicise the provenance, food miles and animal husbandry, with our menu listing the source of key ingredients. We have a strong team here and it's almost as though we are one small family.¿
Simply good business. Recognised by the judges and celebrated by The Feathers family.
The Award judges said:
¿Thrifty, innovative and embedded in the local farm community with great local sourcing and educational value.¿

Ready to enter?
Download the entry form
and guidelines now!
Enter here

Good Things
The online ethical one-stop
shopping experience...
Find out more