Abel & Cole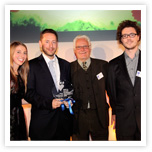 Established suppliers of organic meat and groceries, food delivery company Abel & Cole have won a host of RSPCA Good Business Awards since 2006 for their continued commitment to higher animal welfare.
"We are passionate about animal welfare and always have been," say Nick Briggs of Abel & Cole. "We're particularly picky about how meat, fish, poultry, eggs and dairy get to our plate. We believe it's only right that animals are reared to very high welfare standards. Because it's respectful and right, and because the meat tastes better, and is better for you."
Abel & Cole, winners in the independent food retailer category 2010 for brilliantly communicating their stance on ethical sourcing via a social media campaign, has also introduced non-organic, higher welfare meat for customers who want to buy ethically-sourced meat but don't want to pay organic meat prices.
Nick Briggs, Abel & Cole
"This award means a lot as it brings home what we're trying to do. Sometimes you get distracted by the day to day, but awards like this make you realise what you're trying to do and it's nice to be a part of that."

Ready to enter?
Download the entry form
and guidelines now!
Enter here

Good Things
The online ethical one-stop
shopping experience...
Find out more