Izzy Lane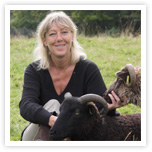 On-the-go award winner in 2008 and finalist in 2009 and 2010, Izzy Lane's seamless mix of cutting edge fashion and ethical luxury continues to wow both the RSPCA Good Business Awards' judges and the public.
"We know the full provenance and authenticity of each garment since we have taken it from the fleece through the whole manufacturing process to the garment itself," says Isobel Davies, Izzy Lane founder.
The 600 rare breed Shetland and Wensleydale sheep, that are at the very core of the business, have been rescued from slaughter as lambs and live out their whole natural lives providing the quality wool used in Izzy Lane's knitwear.
www.izzylane.com
Isobel Davies, Izzy Lane
"Since animal welfare is my main passion and preoccupation, both personally and for my own business, I feel very happy and honoured to receive the RSPCA's seal of approval."
The GBA judges said:
"Izzy Lane shows how a passion for animals can equal a truly luxurious and cutting edge fashion label..." - Fashion judge designer Wayne Hemingway

Ready to enter?
Download the entry form
and guidelines now!
Enter here

Past master!
You're in good company,
previous winners include M&S
and Co-op!
Find out more