Finisterre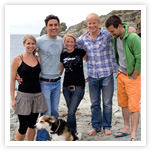 A small business doing good business
The commitment of Finisterre's company ethos goes way beyond the product to the more ethereal elements of business, the environment - and, importantly, that includes higher animal welfare...
"People often ask us how it all began and where we met," explains Finisterre founder, Tom Kay. "Most of the answers to such questions usually relate to a single point - a moment in time when a decision was taken. Points such as starting the brand, calling it Finisterre, seeing where the surf industry was lacking, throwing in the day jobs and the guys moving down to St. Agnes. Above all, sticking to what we said we would do when we started out - make the best technical apparel with minimal environmental impact.
"The rest of the answers surround those aspects of what we do here that have evolved over these last five years; sustainable design philosophies, transparent ethics (including sourcing only higher animal welfare materials), pioneering work with leading universities and suppliers of recycled and recyclable fabrics, as well as the technical qualities of our products - which have been independently verified by reviews and testimonials.
"Both sets of answers revolve around Finisterre being a vehicle for our passions and inspirations - the surfer, the product and the environment. We have had to commit every single step of the way and we hope this comes across in our products and initiatives. There are a few more of us here now, with another handful at arm's length - all talented and inspiring individuals. Convictions are pursued on a daily basis.
Things here are getting busier all the time, and it is beginning to feel like the brand we intended it to be when we started out with a laptop in the attic and stock behind the sofa."
"Our mission - to make the best technical apparel with minimal environmental impact."

Ready to enter?
Download the entry form
and guidelines now!
Enter here

Past master!
You're in good company,
previous winners include M&S
and Co-op!
Find out more